PFAS Chemicals Found in Commonly Used Pesticides, Study Finds
May 12, 2023
By: Irvin Jackson
A new study warns that many common insecticides used on foods contain potentially toxic and cancer causing per- and polyfluoroalkyl substances (PFAS), also known as "forever chemicals", since they are known to build up in the environment and human body, posing a number of health risks,.
Researchers working with the Center for Biological Diversity and Public Employees for Environmental Responsibility (PEER) published an analytical report (PDF) this month, indicating that widely used insecticides, such as Intrepid 2F, contain high levels of PFAS chemicals.
PFAS include over 9,000 man-made chemicals, which have been widely used in a number of products since the 1940's, due to the ability to resist grease, oil and water. However, exposure to the chemicals has been linked to an increased risk of a myriad of adverse health effects, including liver damage, thyroid disease, decreased fertility, high cholesterol, obesity, hormone suppression, and cancer.
Widespread water contamination problems from PFAS chemicals have been identified in a number of communities nationwide, particularly around military bases, airports and firefighter training facilities, where large volumes of the chemicals have been dumped into the drinking water supply from aqueous film-forming foam (AFFF) used to fight petroleum fires.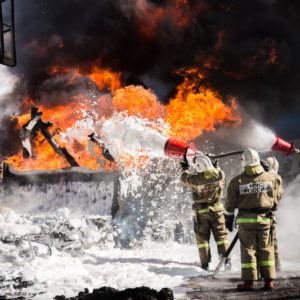 The findings of this new study suggest some popular insecticides and pesticides sprayed directly onto food crops could also be a vector for PFAS exposure. It is also likely runoff from fields sprayed with insecticides would carry PFAS into surface and groundwaters, affecting species and contaminating drinking water supplies.
The Center and PEER commissioned an independent laboratory to test seven agricultural pesticides widely used in California. According to their findings, three out of seven of the pesticides tested contained detectable levels of PFAS.
One of those that had detectable levels of PFAS was Intrepid 2F, an insecticide that is the second-most widely used pesticide in the state, behind Roundup. Researchers estimated that more than 1.7 million pounds of Intrepid 2F were applied over 1.3 million acres across California annually in recent years.
Researchers found that samples of Intrepid 2F contain about 350 parts per trillion (ppt) of the PFAS perfluorobutanesulfonic acid (PFBS). However, the highest amounts of PFAS chemicals were found in Malathion 5EC, which contained 510 ppt of perfluorooctanoic acid (PFOA), believed to be toxic and a likely carcinogen. It also contained 680 ppt of another PFAS; perfluoroheptanesulfonic acid (PFHpS).
"While communities around the country are struggling to remove PFAS from their drinking-water supplies, we are spraying millions of acres of our land with the same toxic chemicals," PEER's science policy director, Kyla Bennett, said in a press release. "It's nonsensical; we can't protect our drinking water unless and until we get PFAS out of all pesticides."
The researchers noted that some of the chemicals, PFBS and PFHpS, were known to leach from plastic containers, which the U.S. Environmental Protection Agency (EPA) has identified as the primary source of PFAS in pesticides, and not the formulation of the products themselves in most cases.
The researchers suggested environmental and health agencies look at pesticides as another potential source for PFAS on farm fields and in water supplies.
2023 PFAS Drinking Water Contamination Lawsuits Update
Manufacturers of PFAS chemicals currently face hundreds of firefighting foam lawsuits nationwide, brought by individuals diagnosed with cancer after direct contact with the chemicals during their careers as a firefighter. In addition, a growing number of PFAS water contamination lawsuits are being pursued by individuals diagnosed with ulcerative colitis or cancer, after regularly drinking water known to contain the chemicals.
Given common questions of fact and law presented in the claims, all federal water contamination lawsuits over PFAS chemicals in AFFF are currently centralized before U.S. District Judge Richard M. Gergel in the District of South Carolina, for coordinated discovery, pretrial proceedings and a series of early bellwether trials, which are expected to begin this year.
Early in the pretrial proceedings, Judge Gergel established a "bellwether" program that started with a group of water contamination cases going through case-specific discovery in preparation for a series of early trial dates, which are expected to begin next month.
If parties do not reach a firefighting foam water contamination settlement agreement once the pretrial proceedings and bellwether test trials are completed, or the litigation is not otherwise resolved, the cases will be remanded back to their originating federal court districts for trial.
"*" indicates required fields