Environmental Groups Sue EPA Over PFAS Contamination Rules
January 24, 2022
By: Irvin Jackson
Several environmental groups have filed a lawsuit alleging federal regulators are failing to properly regulate per- and polyfluoroalkyl substances (PFAS), which are used in firefighting foam, warning that communities are not being given enough information about how the toxic chemicals contaminate their water supplies.
The complaint (PDF) was filed by the National PFAS Contamination Coalition, Sierra Club, and the Union of Concerned Scientists in the U.S. District Court for the District of Columbia on January 20, naming the U.S. Environmental Protection Agency (EPA) and its administrator, Michael Regan, as the defendants.
The environmental groups say the EPA's PFAS contamination rules are depriving communities of critical information by not telling them which PFAS are being released from nearby facilities, or how much of those chemicals are being released. Some communities are left unaware there is PFAS contamination in their water, due to alternate threshold exemptions and other ways the EPA lets manufacturers and polluters off the hook, the lawsuit claims.
The PFAS contamination lawsuit also accuses the EPA of failing to provide the necessary information to scientists they need to understand the harmful chemicals, such as which ones are more dangerous than others, due to many of the same exemptions, which the plaintiffs claim are illegal.
PFAS were first introduced into the manufacturing industry in the 1940's, because of their ability to resist heat, grease, stains, and water. However, since then the chemicals have been linked to a myriad of adverse health effects including liver damage, thyroid disease, decreased fertility, high cholesterol, obesity, hormone suppression, and cancer.
While the chemical are found in a wide variety of products, including some food packaging materials, pizza boxes, popcorn bags, fabrics, nonstick cooking pans, and other products, most of the concerns have focused on high volumes of the PFAS chemicals that entered drinking water supplies from aqueous film-forming foams (AFFFs) widely used near airports, military bases and firefighting training centers.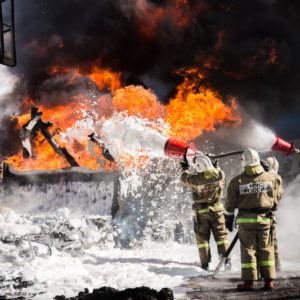 "For decades, communities around the country have been drinking water poisoned with per- and polyfluoroalkyl substances (PFAS) – a large family of highly toxic, synthetic chemical substances linked to many serious health harms – without knowing it," the lawsuit states. "Although EPA has been aware of the dangers and widespread use of PFAS for decades, it has never on its own volition added any PFAS to the Toxic Release Inventory (TRI) – a public database established by the Emergency Planning and Community Right-to-Know Act…to ensure communities have information about dangerous chemicals they may be exposed to and government officials and researchers have information that can assist in investigation, planning, and policy development."
The plaintiffs indicate the EPA's actions are in violation of the TRI rules, due to major exemptions the EPA has adopted which the lawsuit claims allows companies and the agency to avoid the broad reporting of PFAS chemicals mandated by Congress.
This has been achieved through de minimis concentration exemptions set by the EPA in 1988, which allows companies not to report the presence of a TRI-listed chemical if it makes up less than 1% of a chemical mixture if that chemical is not a carcinogen, and less than 0.1% if it is.
The problem is also compounded by an "alternate threshold" rule set by the EPA in 1994, according to the lawsuit. Under this regulation, if a facility determines its reported releases and disposals were 500 pounds less or combined, it can use an alternate reporting threshold of 1,000,000 pounds per year for manufacturing, processing or otherwise using that chemical. This allows that facility to only submit a "barebones" certification and not the usual toxic chemical release form.
"The most significant information that must be included on the toxic chemical release form, such as environmental release information, need not be provided by facilities using the alternate threshold," the lawsuit notes. "In sum, the TRI PFAS Rules significantly limit the information that must be reported about statutorily listed PFAS."
The lawsuit calls for the court to see these exemptions as violations of federal law and to force the EPA to obey them.
Some States Taking Their Own Actions on Regulating PFAS Contamination
In lieu of what many perceive as adequate federal PFAS regulations, some states have taken it upon themselves to regulate the toxic chemicals.
In July, Maine put in place a ban on PFAS which will go into effect by 2030. In addition to Maine, New York set guidelines last January which set limits on allowable concentrations on some PFAS chemicals. Additionally, also in July, two U.S. Senators introduced a bill which would ban the use of PFAS in cosmetics.
Chemical manufacturers now face a growing number of firefighting foam PFAS lawsuits brought by nationwide, including individuals diagnosed with with cancer after exposure to the chemicals in their drinking water, as well as firefighters directly exposed during training and response exercises.
"*" indicates required fields