PFAS Exposure Could Make COVID-19 Vaccine Less Effective: Study
December 18, 2020
By: Irvin Jackson
Research suggests the effectiveness of COVID-19 vaccines may be impacted by exposure to toxic chemicals found in some firefighter foams and other products, which have caused widespread water contamination in many communities throughout the U.S. in recent years.
In a recent report, Danish researchers indicate they discovered at least five per- and polyfluoroalkyl substances (PFAS) compounds, known to be immunotoxic, which appear to increase the severity of COVID-19 infections, and may undermine the effectiveness of the new vaccines designed to fight the pandemic. The findings have not yet been peer reviewed and are considered preliminary, but may raise concerns in certain communities.
Aqueous film-forming foam (AFFF) has been widely used for decades to fight petroleum-based fires, which cannot be controlled or subdued by water alone. However, many versions of the fire foam contained PFAS chemicals, which are commonly referred to as "forever chemicals" because they can take decades to break down. They can also build up in the water, soil or human body, increasing the risk of cancer and other injuries.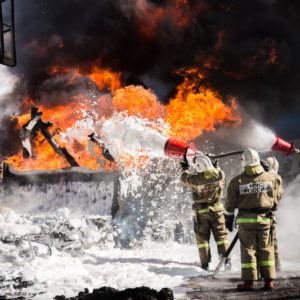 In the United States, a number of communities around military bases, airports and other firefighter training locations have been found to contain high levels of PFAS in local water sources, which are often difficult to remove.
In this latest study, researchers took plasma samples from 323 subjects between the ages of 30 and 70 with known COVID-19 infections, and measured them for five PFAS chemicals known to be immunotoxic.
The researchers found plasma PFAS levels were higher in males, those with Western European backgrounds, and those levels increased with age. In addition, the presence of one particular PFAS compound, known as perfluorobutanoic acid (PFBA) more than doubled the risk of a severe infection. Once they accounted for age, sex, and other factors, that lowered to nearly an 80% increased risk.
"Elevated plasma-PFBA concentrations were associated with an increased risk of more severe course of COVID-19," the researchers concluded. "Given the low background exposure levels in this study, the role of PFAS exposure in COVID-19 needs to be ascertained in populations with elevated exposures."
Their early findings, first reported in October, did not garner much attention. However, now experts are warning the increased severity caused by some PFAS compounds could counteract the benefits of the vaccines, which greatly decrease the severity of COVID-19 infections, in addition to preventing infections.
"There is evidence from human and animal studies that PFAS exposure may reduce antibody responses to vaccines and may reduce infections disease resistance," the U.S. Centers for Disease Control and Prevention warned in a statement. "Because COVID-19 is a new public health concern, there is still much we don't know. More research is needed to understand how PFAS exposure may affect illness from COVID-19."
In recent months, much of the focus on PFAS chemical exposure has been linked to the use of firefighting foams. Chemical and safety equipment manufacturers face hundreds of firefighting foam lawsuits pending nationwide, including claims presented by local governments and water districts, as well as claims brought by former firefighters diagnosed with testicular cancer, kidney cancer, pancreatic cancer and other injuries after direct exposure to the chemicals.
Given common questions of fact and law raised in the PFAS litigation, all cases filed throughout the federal court system are currently centralized in the U.S. District Court for the District of South Carolina for coordinated discovery and pretrial proceedings, where small groups of water contamination cases and cancer claims are being prepared for early trial dates.
"*" indicates required fields