Study Finds PFAS Exposure May Weaken Bones in Teen Boys
May 05, 2022
By: Russell Maas
A new study raises concerns that exposure to per- and poly-fluoroalkyl substances (PFAS), which have caused widespread water and environmental contamination throughout the United States, may increase the risk of bone deterioration for young males.
In findings published this week in The Journal of Clinical Endocrinology and Metabolism, researchers with the Maine Medical Center Research Institute found exposure to certain PFAS and phthalates may be associated with reduced bone mineral density in teen boys, raising concerns that long term exposure could cause weakened skeletal structures.
PFAS were first introduced into the manufacturing industry in the 1940's, because of their ability to resist heat, grease, stains, and water. However, since the chemicals are known to persist and build up in the environment, leading to the nickname "forever chemicals", a myriad of adverse health effects have been linked to exposure, including liver damage, thyroid disease, decreased fertility, high cholesterol, obesity, hormone suppression, and cancer.
One of the most troublesome uses of PFAS chemicals has been in aqueous film-forming foams (AFFF) commonly used by the military and firefighting organizations throughout the country, which has resulted in high volumes of the toxic chemicals entering the soil and drinking water, especially around military bases, airports and firefighter training facilities.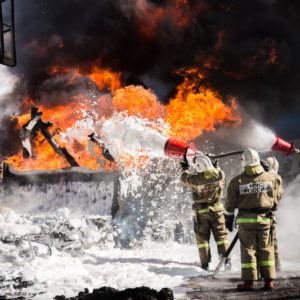 In the latest study, researchers reviewed data from the 2011 through 2016 National Health and Nutrition Examination Survey, which contained data on measurements of serum PFAS, urinary phthalate metabolites, and dual-energy X-ray absorptiometry aBMD Z-scores in 12 to 19 year old participants.
The study was designed to measure a number of PFAS compounds, as well as seven urinary phthalate metabolites, through urine, blood samples and bone density scans.
According to the findings, higher levels of perfluorooctanoate (PFOA), perfluorooctane sulfonate rinary mono-isobutyl phthalate (MiBP), mono-n-butyl phthalate, and the overall PFAS/phthalate mixture were associated with lower areal bone mineral density among youth males between the ages of 12 to 19.
While the study found no statistically significant impact on the bone density growth of females, the researchers stated this may be related to differences in biological impact across chemicals. However, the authors raise concerns particularly with the timing of PFAS exposure, stating that since bone accrual primarily occurs during adolescence, exposure to the forever chemicals could cause have lifelong implications for bone and skeletal health in males.
The authors recommend adolescent male and females avoid certain products containing PFAS and phthalates, such as plastics, to limit the possible long term risks of PFAS exposure.
PFAS Contamination Lawsuits
PFAS have become widely used in a variety of products, including some food packaging materials, pizza boxes, popcorn bags, fabrics, nonstick cooking pans, and other products, including firefighting foam that has been widely used for decades.
Although safer alternatives were available to fight fuel based fires without PFAS chemicals, aqueous film-forming foams (AFFF) was sold for by 3M Company and other companies, who now face a growing number of firefighter cancer lawsuits, as well as environmental lawsuits brought by individuals who experienced health problems after years of exposure to PFAS in contaminated drinking water.
"*" indicates required fields