PFAS Lawsuits Against 3M May Have Far-Reaching Effects On Chemical Industry: Report
August 09, 2019
By: Irvin Jackson
How 3M Company and other defendants deal with a growing number of PFAS lawsuits over use of the chemicals in firefighting foam may have widespread effects on the chemical industry, according to a recent report.
A story published in The Post and Courier in South Carolina highlights the impact pretrial proceedings in more than 100 water contamination lawsuits involving fire-fighting foam could have that extend far beyond the legal cases.
3M Company, Tyco Fire Products and Chemguard, Inc. face a growing number of product liability lawsuits filed by both individuals and municipalities nationwide, each involving similar allegations that the companies knew or should have known about the risks associated with exposure to perfluorinated compounds (PFAS) within its aqueous film-forming foam (AFFF), which has been used by the military over the last several decades during routine fire extinguishing exercises at military bases nationwide.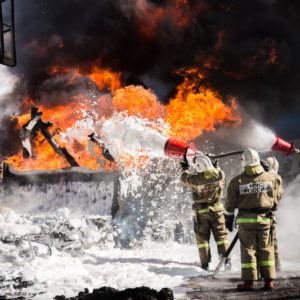 All of the lawsuits were centralized earlier this year in the U.S. District Court of South Carolina under Judge Richard M. Gergel for pretrial proceedings as part of a multidistrict litigation (MDL).
Judge Gergel must decide whether 3M can be face allegations for widespread water contamination nationwide, which has been linked to developmental issues, thyroid problems, cancer and immune system issues.
While 3M has maintained the chemicals are safe and did not cause water contamination, it also indicates it stopped manufacturing the chemicals nearly 20 years ago. That raises the question about how far the liability could be applied, with some suggesting that the litigation could potentially compare to asbestos claims, which is the longest-running litigation in U.S. history and has led to thousands of trials and companies going bankrupt.
Judge Gergel reportedly told attendants at a status conference last month that the litigation poses an "existential threat" to 3M and other companies. It is anticipated that the litigation will continue to grow considerably in the coming months and years, and that they could destroy the manufacturers financial future if they are held liable for problems caused by their product.
PFASs are chemical substances used to manufacture a number of products, including food packaging materials, pizza boxes, popcorn bags, fabrics, nonstick cooking pans, and firefighting foams.
The chemicals are projected to take thousands of years to degrade, and past studies have shown their ability to enter and stay in the environment and human body through the air, dust, food, soil, and water. Previous U.S. Centers for Disease Control and Prevention (CDC) studies have shown PFAS chemicals primarily settle into the blood, kidney and liver, and could likely be detected in the blood of 98% of the U.S. population.
PFAS were first introduced into the manufacturing industry in the 1940's because of their ability to resist heat, grease, stains, and water.
In June, a federal investigation found that PFAS chemicals are commonly found in numerous food products, including meats, seafood, chocolate, cake and other products. However, the FDA released a statement indicating that the levels found do not raise health concerns, based on the best available science.
"*" indicates required fields