Legislation Would Order EPA To Regulate, Set Standards, For "Forever Chemicals" Found in Firefighter Foam
April 16, 2021
By: Irvin Jackson
A group of lawmakers in the U.S. House of Representatives have proposed new legislation seeking to limit and monitor the amounts of certain toxic chemicals in the nation's drinking water, which are often associated with aqueous film-forming foam (AFFF) used in firefighting training and response exercises.
On April 13, Representatives Debbie Dingell and Fred Upton, both from Michigan, introduced a bill to establish drinking water standards for per- and polyfluoroalkyl substances (PFAS), designated contaminated sites as hazardous and set cleanup requirements, and limit industrial discharges.
Known as the PFAS Action Act (PDF), the legislation would be the first to require the U.S. Environmental Protection Agency to fully regulate the chemicals, which are often referred to as "forever chemicals", since they are known to persist for decades in the environment.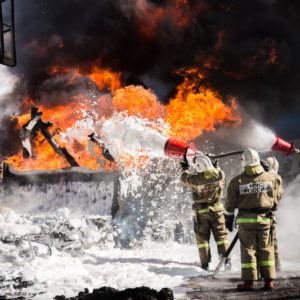 PFAS were first introduced into the manufacturing industry in the 1940's, because of their ability to resist heat, grease, stains, and water. However, since then the chemicals have been linked to a myriad of adverse health effects including liver damage, thyroid disease, decreased fertility, high cholesterol, obesity, hormone suppression, and cancer.
The chemical substances are used to manufacture a number of products, including some firefighting foams, food packaging materials, pizza boxes, popcorn bags, fabrics, nonstick cooking pans, and other products.  However, it is perhaps most known for its use in firefighting foams used by military and civilian firefighters.
In recent years, concerns have emerged about widespread water contamination from PFAS chemicals, particularly among communities near airports, military bases and other locations where firefighter training has been conducted that dumped the chemicals into the soil and groundwater.
"Let's be very clear, PFAS is an urgent public health and environmental threat. And the number of contamination sites nationwide is growing at an alarming rate, including our military bases," Dingell said in a press release. "The PFAS Action Act is a sweeping and comprehensive legislative package which has strong bipartisan support to address the PFAS crisis in the United States. It's time that these chemicals are properly addressed to protect the American people from the hazardous substances we know these forever chemicals are. Setting drinking water standards and designating PFAS as hazardous substances under the EPA's Superfund program will accelerate the clean-up process in communities and at military facilities all across this nation."
The bill would call on the EPA to establish a national drinking water standard for perfluorooctanoic acid (PFOA) and perfluorooctanesulfonic acid (PFOS); two of the most common and problematic PFAS chemicals, within two years of passage. It would also designate those two chemicals as hazardous substances and air pollutants and would give the EPA five years to determine which other PFAS chemicals also should be classified as hazardous.
In addition, the bill would also require the EPA to place discharge limits on PFAS releases, provide $200 million annually for wastewater treatment of PFAS, prohibit unsafe incineration of PFAS wastes, place a moratorium on the introduction of new PFAS chemicals, require comprehensive PFAS health testing, and create voluntary labeling standards for the use of PFAS in cookware.
It is unclear whether the bill will move forward, however, it has already received a bipartisan coalition of 25 cosponsors in the house and was introduced by Democrats, who control both chambers of Congress and the White House. The bill made it through the House in 2020 with a 247-159 vote, but died in the then-Republican controlled Senate.
It is projected to take thousands of years for PFAS chemicals to degrade, and past studies have shown their ability to enter and stay in the environment and human body through the air, dust, food, soil, and water. Previous U.S. Centers for Disease Control and Prevention studies have shown PFAS chemicals primarily settle into the blood, kidney and liver, and could likely be detected in the blood of 98% of the U.S. population.
Chemical manufacturers now face a growing number of firefighting foam lawsuits brought by nationwide, including individuals diagnosed with with cancer after exposure to the chemicals in their drinking water, as well as firefighters directly exposed during training and response exercises.
"*" indicates required fields