$54M PFAS Settlement Approved in Toxic Chemical Dumping Lawsuits Against 3M, Wolverine Worldwide
April 06, 2023
By: Irvin Jackson
A federal judge has granted final approval for a $54 million PFAS settlement, which will resolve class action claims over the dumping of toxic chemicals near a Wolverine World Wide footwear manufacturing facility in Michigan.
On March 29, Judge Hala Y. Jarbou, of the U.S. District Court for the Western District of Michigan, issued an order (PDF) granting final approval for the deal, which was reached in September, after about five years of litigation.
The lawsuit stemmed from the use of per- and polyfluoroalkyl substances (PFAS) to treat leather at a Wolverine footwear manufacturing facility, which leached into Michigan drinking water, posing potential health risks for more than 1,700 area residents.
In 2017, several property owners in Kent County, Michigan filed a PFAS class action lawsuit against 3M and Wolverine due to water contamination in the Belmont Michigan National Guard Armory drinking water. The so-called "forever chemicals" infiltrated local municipal water supplies and private wells, and appeared to be spreading rapidly to other water sources.
The source was tracked back to the House Street Disposal Area, and plaintiffs say it comes from PFAS used by 3M and Wolverine to make Scotchgard, a water replant used in Wolverine's Keds footwear. Wolverine, based in Rockford, Michigan, is the manufacturer of Cat work boots, as well as Keds and Saucony shoes.
Plaintiffs said Wolverine dumped the waste into nearby disposal sites, which then leached into the water table. The lawsuit also claims both companies knew the risks to local water supplies but failed to take precautions or warn local communities.
According to the final approval order, the settlement involves 1,195 claimants, who will receive between $15,000 and $25,000 each. Only three claimants opted out of the settlement agreement.
Concerns Over PFAS Water Contamination
Toxic PFAS chemicals were first introduced into the manufacturing industry in the 1940's, because of their ability to resist heat, grease, stains, and water. For these reasons, they have become widely used in a vast amount of consumer products, including food packaging materials, pizza boxes, popcorn bags, fabrics, nonstick cooking pans, and large volumes of the chemicals have been used in aqueous film-forming foam (AFFF) used by the military and civilian fire companies to combat fuel-based fires.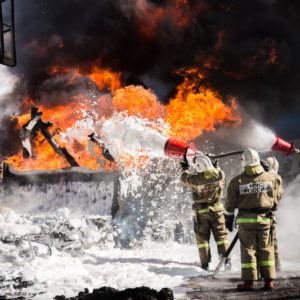 Since the chemicals do not break down naturally, they have contaminated water supplies in communities nationwide, especially near manufacturing plants, airports, military bases and other facilities, where large volumes of PFAS entered water from the use of firefighting foam products used during firefighter training.
Manufacturers of the chemicals now face a number of firefighting foam cancer lawsuits brought by individuals who came into direct contact with the chemicals during fire training and response exercises. In addition, PFAS water contamination lawsuits are also being pursued by individuals diagnosed with pancreatic cancer, liver cancer, bladder cancer, testicular cancer, kidney cancer and ulcerative colitis after years of drinking tap water known to contain high levels of the toxic "forever chemicals."
"*" indicates required fields