Tyco PFAS Agreement May Be Blueprint for Future Firefighter Foam Settlements
January 20, 2021
By: Irvin Jackson
Earlier this month it was reported that Tyco agreed to pay millions to resolve claims chemicals from the company's aqueous film forming foam (AFFF) contaminated water supplies near hundreds of homes in Wisconsin, likely paving the way for similar firefighting foam settlements for communities nationwide.
The agreement came after a water contamination lawsuit was brought by homeowners in Peshtigo, Wisconsin, who alleged their private wells were contaminated with per and polyfluoroalkyl substances (PFAS) contained in firefighting foam, which leaked from the nearby Tyco Firefighting Technology Center in Marinette.
The Tyco PFAS settlement involves a payment of $17.5 million by the subsidiary of Johnson Controls, including $15 million in funding to settle class-wide claims and property damage claims for home owners. In addition, the company agreed to pay $2.5 million to individual area residents diagnosed with various types of cancer linked to the PFAS chemical exposure from firefighter foams.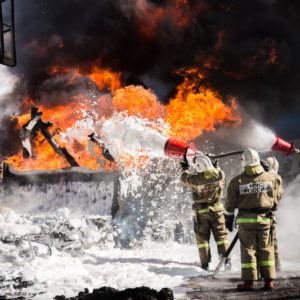 Residents near the Wisconsin plant are estimated to receive between $60,000 and $70,000 per household from the settlement, based on the levels of contamination. The deal is believed to be the first of its kind involving PFAS water contamination from the fire fighter foam chemicals, which have also caused widespread contamination surrounding other manufacturing plants, as well as military bases where the foam products have commonly been used during firefighting training exercises.
U.S. District Judge Richard B. Gergel is presiding over nearly 1,000 similar lawsuits involving PFAS water contamination brought by communities nationwide, as well as claims for individual firefighters diagnosed with cancer following exposure to the chemicals. The claims are centralized as part of a multidistrict litigation (MDL) in the District of South Carolina, where Judge Gergel approved the Tyco deal, providing a strong blueprint that may help result other claims in the coming months.
"*" indicates required fields