Tyco To Pay $17.5M to Settle Fire Fighter Foam Water Contamination Class Action Lawsuit
January 08, 2021
By: Irvin Jackson
A major manufacturer of aqueous film forming foam (AFFF) used by firefighters has agreed to pay $17.5 million to resolve a class action lawsuit over water contamination near hundreds of homes in Wisconsin, after toxic chemicals used in the fire fighter foam polluted private wells and water supplies.
Experts indicate per and polyfluoroalkyl substances (PFAS) chemicals contained in firefighting foam may take thousands of years to degrade, and past studies have shown that they have the ability to enter and stay in the environment and human body through the air, dust, food, soil, and water.
The toxic chemicals were first introduced into the manufacturing industry in the 1940's, because of their ability to resist heat, grease, stains, and water. However, since then the chemicals have been linked to a myriad of adverse health effects including liver damage, thyroid disease, decreased fertility, high cholesterol, obesity, hormone suppression, and cancer.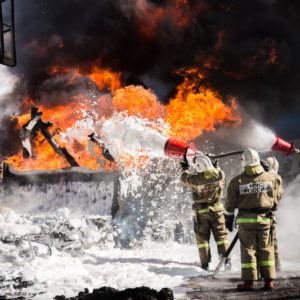 The fire fighter foam class action lawsuit was filed in 2018, on behalf of 270 households in Peshtigo, Wisconsin, who had a private well on their property. Those wells were found to be contaminated with PFAS, which plaintiffs say came from the Tyco Firefighting Technology Center in Marinette. They also alleged the contamination dated back to the 1960s.
Tyco, a subsidiary of Johnson Controls, indicates it has worked for several years to identify the impacted area and find solutions to the contamination. It has provided bottled water or other systems to provide the affected households with clean water, and indicates it has a permanent solution in the works in collaboration with the Wisconsin Department of Natural Resources.
In this latest water contamination settlement, the company has agreed to pay $17.5 million, including $15 million for class-wide claims and property damage. In addition, the company will pay $2.5 million to individuals diagnosed with various types of cancer linked to PFAS exposure.
Residents are estimated to receive between $60,000 and $70,000 per household from the settlement, based on the levels of contamination.
"This settlement agreement is part of Tyco's efforts to address the disruption this issue has caused our neighbors," Tyco Spokesperson Katie McGinty said in a January 7 press release. "It does not affect or change Tyco's ongoing initiatives to remediate PFAS from the FTC in the Marinette/Peshtigo area to ensure our neighbors have clean and safe water."
The deal is believed to be the first of its kind involving PFAS water contamination from the fire fighter foam chemicals.
Tyco and numerous other safety equipment and chemical manufactures still face a growing number of AFFF fire fighter lawsuits filed across the nation, all raising similar allegations of the manufacturers failing to warn of the dangers of PFAS, which plaintiffs say led to those exposed developing testicular cancer, kidney cancer, pancreatic cancer and other injuries.
Due to the growing number of lawsuits over firefighting foam injuries brought throughout the federal court system, centralized pretrial proceedings have been established in the U.S. District Court for the District of South Carolina, where the parties are engaging in coordinated discovery and preparing for a series of early "bellwether" trials designed to gauge how juries are likely to respond to certain evidence and testimony that will be repeated in claims brought by firefighters nationwide.
"*" indicates required fields