New PFAS Studies To Examine Health Effects Nationwide
July 20, 2020
By: Irvin Jackson
Earlier this month, the Pennsylvania Department of Health held a virtual meeting and announced an investigation into problems with drinking water contamination involving per- and poly-fluoroalkyl substances (PFAS) contained in toxic firefighting foam, with a new study launched as part of a new national effort designed to better understand the long-term health effects.
The study joins similar research that will be conducted in Colorado, Massachusetts, Michigan, New Hampshire, New Jersey, New York and California, which are based on protocols put together by the U.S. Centers for Disease Control and Prevention (CDC) and funded with $40 million provided by Congress, as part of the Department of Defense appropriations. An additional $15 million is under consideration.
The Defense funding comes because the problems with PFAS contamination are believed to be linked to the use of film-forming foams during military training exercises to fight fuel-based fires, with the chemicals contained in the foam seeping into the groundwater and spreading to neighboring communities.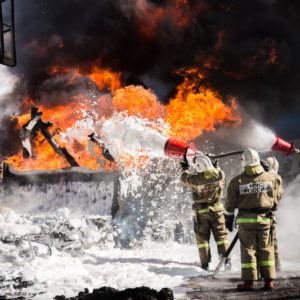 Aqueous film-forming foam (AFFF) has been used for decades to fight petroleum-based fires, which cannot be controlled or subdued by water alone. However, in recent years, substantial concerns have emerged about health risks linked to AFFF foam exposure, and municipal water supplies near several military bases, airports and other training locations have been found to contain Perfluorooctanoic Acid (PFOA) and Perfluorooctanesulfonic acid (PFOS) from the foam, which are cancer-causing chemicals that are collectively known as PFAS.
A pilot study using the CDC protocols, known as the Pease study, was launched in New Hampshire in May, but has since been suspended due to the coronavirus pandemic.
In the original draft proposal (PDF) for the study, the CDC suggested looking at PFAS side effects on the kidneys, immune system and cholesterol levels. However, it has not yet announced what health effects the multi-site studies will examine.
The studies will compare those who lived in known contaminated sites and drank the water there, to those who did not. Researchers will test blood and urine samples, take body measurements, investigate subjects' medical history, and study the behaviors of their children.
PFAS Health Concerns
PFAS were first introduced into the manufacturing industry in the 1940's, because of their ability to resist heat, grease, stains, and water. However, since then the chemicals have been linked to a myriad of adverse health effects including liver damage, thyroid disease, decreased fertility, high cholesterol, obesity, hormone suppression, and cancer.
In addition to firefighting foams, PFASs are chemical substances used to manufacture a number of products, including food packaging materials, pizza boxes, popcorn bags, fabrics, nonstick cooking pans, and other products. The firefighting foam has been regularly used at military bases nationwide over the past decade during routine fire extinguishing exercises, and is increasingly used by civilian firefighters.
The chemicals are projected to take thousands of years to degrade, and past studies have shown their ability to enter and stay in the environment and human body through the air, dust, food, soil, and water. Previous U.S. Centers for Disease Control and Prevention studies have shown PFAS chemicals primarily settle into the blood, kidney and liver, and could likely be detected in the blood of 98% of the U.S. population.
A number of chemical manufacturers face a growing number of PFAS firefighter foam lawsuits in federal courts nationwide, which are centralized in the U.S. District Court for the District of South Carolina for pretrial proceedings. Plaintiffs say exposure to the chemicals have led to cases of cancer among military and civilian firefighters, and among those who live in communities whose water supplies have been contaminated.
"*" indicates required fields