Philips BiPAP Machine Caused Kidney Cancer Diagnosis, Lawsuit Claims
January 10, 2022
By: Irvin Jackson
A New York man indicates in a recently filed lawsuit that his diagnosis of kidney cancer was caused by a Philips BiPAP machine, which was part of a massive recall last year, due to the risk that sound abatement foam inside the breathing machines may breakdown and release toxic debris directly into the masking, tubing and air pathways.
The complaint (PDF) was filed by Joseph Martin in the U.S. District Court for the Western District of Pennsylvania on December 29, indicating that he was diagnosed with cancer after use of a System One BiPAP device to treat his sleep apnea.
The System One BiPAP was part of a massive Philips sleep apnea machine recall issued last year, which impacted an estimated 15 million DreamStation devices, CPAP, BiPAP and mechanical ventilators sold since 2009, which all contained the same type of polyester-based polyurethane (PE-PUR) foam intended to reduce noise and vibrations. However, the manufacturer now acknowledges that the foam degrades and releases dangerous chemicals, gasses and particles directly into the machine's air pathways, where users breath the cancer-causing debris every night.
Martin indicates he was prescribed a System One BiPAP for daily use several years before the recall, providing bilevel positive airway pressure. While similar to a CPAP (continuous positive airway pressure) machine, Philips BiPAP machines can be set to provide a higher air pressure when breathing in, which may be more effective based on type of medical problems experienced by the user, but also increase the risk of foam particles being pushed into the lungs.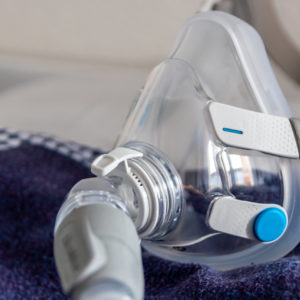 Philips CPAP Recall Lawsuit
According to his Philips System One BiPAP lawsuit, Martin blames his November 2017 kidney cancer diagnosis on use of the recalled sleep apnea machine, indicating that he did not discover the connection until last summer, when problems were disclosed by the manufacturer.
"Plaintiff's use of the subject device caused or significantly contributed to his development and progression of kidney cancer, which has permanently changed his life," the lawsuit states. "Plaintiff has had to undergo significant treatment, will be required to undergo significant treatment in the future, and now requires constant and continuous medical monitoring and treatment due to the defective nature of the subject device and/or Defendants' wrongful conduct."
According to an FDA inspection report released late last year, Philips knew about the problem with the degrading sound abatement foam in BiPAP, CPAP and ventilators since at least 2015, indicating that emails exchanged with the foam supplier discussed the problem. However, no investigation was initiated or corrective actions were taken until a massive recall was announced in June 2021.
Over the past few months, dozens of similar Philips BiPAP and CPAP lawsuits have been filed throughout the federal court system, each raising similar allegations that exposure the deteriorating sound abatement foam exposed users to a risk of cancer, severe respiratory problems and other health complications.
Given common questions of fact and law raised in product liability and class action lawsuits over recalled Philips devices and other breathing assistance machines, the U.S. Judicial Panel on Multidistrict Litigation (JPML) recently decided to centralize the litigation before Senior U.S. District Judge Joy Flowers Conti in the Western District of Pennsylvania for pretrial proceedings as part of a multidistrict litigation (MDL).
"*" indicates required fields