Philips CPAP Device Problems Led To Double-Lung Transplant, Lawsuit Claims
April 28, 2022
By: Irvin Jackson
A Maine woman indicates in a recently filed a lawsuit that she required a double lung transplant due to problems with her Philips CPAP device, which was recalled last year after the manufacturer acknowledged that toxic foam particles may be released directly into the sleep apnea machine's air pathways.
The complaint (PDF) was filed by Susan Blanchard in the U.S. District Court for the District of Maine on April 21, pursuing product liability claims against Philips North America, LLC and its subsidiaries, as the defendant.
Philips announced a CPAP device recall in June 2021, affecting millions of breathing machines that contained a polyester-based polyurethane (PE-PUR) sound abatement foam, which was intended to reduce noise and vibrations while consumers use the device every night for treatment of sleep apnea.
However, serious safety concerns emerged when it was discovered that the foam degrades and breaks down over time, which may cause toxic particles and debris to be released directly into the machine's air pathways, mask and users lungs, and increase cancer risks from using Philips CPAP machines.
Breathing the chemicals, gasses and particles released by the PE-PUR foam has already been linked to reports of cancer, lung damage and severe respiratory injuries, according to allegations raised in hundreds of Philips CPAP device lawsuits now being pursued by former users.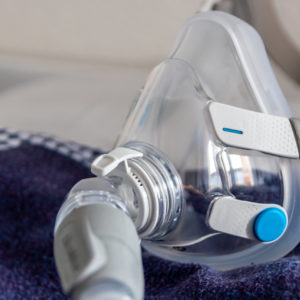 Philips CPAP Recall Lawsuit
According to Blanchard's complaint, she was prescribed and purchased a REMstar CPAP device from Philips, resulting in permanent injuries, disability and the need for both lungs to be replaced.
"These injuries would not have occurred but for the defective nature of the subject device and/or Defendants' wrongful conduct," the lawsuit states. "Plaintiff has had to undergo significant treatment, will be required to undergo significant treatment in the future, and now requires constant and continuous medical monitoring and treatment due to the defective nature of the subject device and/or Defendants' wrongful conduct."
According to an FDA inspection report released late last year, Philips knew about the problem with the degrading sound abatement foam since at least 2015, indicating that emails exchanged with the foam supplier discussed the problem. However, no investigation was initiated or corrective actions were taken until the massive recall was announced in June 2021.
Given common questions of fact and law raised in product liability lawsuits and class action lawsuits filed nationwide over the recalled Philips sleep apnea devices, coordinated pretrial proceedings have been established before Senior U.S. District Judge Joy Flowers Conti in the Western District of Pennsylvania.
In the coming years, it is expected that Judge Conti will establish a bellwether program where small groups of representative CPAP lawsuits will be prepared for early trial dates, to help gauge how juries are likely to respond to certain evidence and testimony that is likely to be repeated throughout the claims.
Richard

May 19, 2022 at 3:03 pm

I have been using this CPAP machine for a number of years and was given a replacement machine on 09/11/2021.
"*" indicates required fields