Philips CPAP Lung Cancer Lawsuit Filed By Long-Time User of DreamStation Machine
November 30, 2021
By: Irvin Jackson
A Louisiana man indicates in a recently filed lawsuit that years of using a Philips DreamStation CPAP caused lung cancer, after toxic particles and chemicals released by the recalled sleep apnea machine's sound abatement foam entered the tubing, mask and air pathways.
The complaint (PDF) was filed by Jack Clampit and his wife, Debbie, in the U.S. District Court for the Western District of Pennsylvania on November 26, indicating that the DreamStation machine was directly responsible for his development and progression of lung cancer, as well as other harm to his respiratory system.
The lawsuit comes months after a massive Philips DreamStations recall was issued for more than 15 million CPAP, BiPAP and ventilator devices that contained a polyester-based (PE-PUR) sound abatement foam, which was intended to reduce sounds and vibrations during use. However, the manufacturer now acknowledges that the CPAP foam degrades over time, and may release black particles or debris directly into the sleep apnea machine's air pathways, exposing users to a number of toxic chemicals and gases.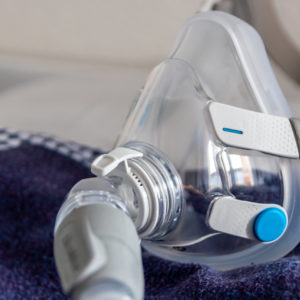 Philips CPAP Recall Lawsuit
Clampit indicates he used a DreamStation CPAP device for about 10 years, and was diagnosed with lung cancer two years ago, resulting in treatment at M D Anderson in Houston, Texas, which has permanently changed in life.
Although he was unaware that the DreamStation caused his lung cancer until the recall was announced in June 2021, the lawsuit indicates Philips knew for years that the PE-PUR foam could degrade and was a potential health risk for consumers. However, no CPAP cancer risk warnings or information was provided for individuals using the DreamStation machine every night for treatment of their sleep apnea.
"Defendants have not disclosed when they first received reports from users of its Sleep & Respiratory Care devices 'regarding the presence of black debris/particles within the airpath circuit (extending from the device outlet, humidifier, tubing, and mask)'," the lawsuit states. "However, given how long ago the first of the Recalled Devices came to market, it is unlikely that Defendants only recently learned of these issues."
These allegations were backed up by a recent FDA inspection report, which suggested that the Philips CPAP recall likely came years too late, after identifying complaints involving foam degradation back to 2015. However, the manufacturer failed to perform an adequate investigation or take any corrective actions until this year, according to the FDA findings.
Over the past few months, dozens of similar Philips DreamStation CPAP lawsuits have been filed throughout the federal court system, each raising similar allegations that exposure the deteriorating sound abatement foam exposed users to a risk of cancer, severe respiratory problems and other health complications.
Given common questions of fact and law raised in product liability and class action lawsuits over recalled Philips CPAP devices and other breathing assistance machines, the U.S. Judicial Panel on Multidistrict Litigation (JPML) decided last month to centralize the litigation before Senior U.S. District Judge Joy Flowers Conti in the Western District of Pennsylvania for pretrial proceedings as part of a multidistrict litigation (MDL).
"*" indicates required fields