Philips DreamStation CPAP Machine Caused Lung Cancer Diagnosis, Lawsuit Claims
December 15, 2021
By: Irvin Jackson
An Alabama woman indicates the side effects of a Philips DreamStation CPAP machine caused her to develop lung cancer, after breathing toxic particles and chemical released by the sound abatement foam inside the recalled sleep apnea device.
The complaint (PDF) was filed by Vicki Baker late last month in the U.S. District Court for the District of Alabama, joining a growing number of similar lawsuits alleging that long-term users of the Philips DreamStation CPAP machine were left with severe and potentially life threatening injuries.
A massive Philips DreamStations recall was issued earlier this year, impacting more than 15 million CPAP, BiPAP and ventilators that contained a polyester-based (PE-PUR) sound abatement foam, which was intended to reduce sounds and vibrations during use. However, the manufacturer now acknowledges that the CPAP foam degrades over time, and may release black particles or debris directly into the sleep apnea machine's air pathways, exposing users to a number of toxic chemicals and gases.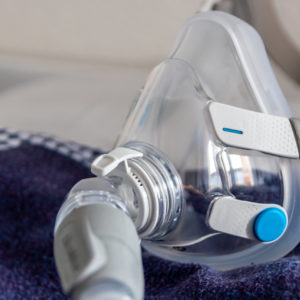 Philips CPAP Recall Lawsuit
According to Baker, she began using a Philips DreamStation CPAP machine on a nightly basis in July 2018, after she was diagnosed with sleep apnea the previous April. In December 2019, She was diagnosed with adenocarcinoma lung cancer caused by the Philips CPAP foam particles, which released toxic and carcinogenic chemicals and gasses directly into the machine's air pathways.
A recently released FDA inspection report suggests that Philips knew about the problem with the degrading sound abatement foam for years, but failed to initiate any corrective action or provide warnings for users and the medical community.
"Defendants wrongfully withheld from the information sphere the true risk and benefits – the important information about the medical devices at issue," Baker's lawsuit states. "Because of this negative propaganda campaign, Defendants helped convince major medical institutions, providers, and learned intermediaries that in many patients the benefits still outweigh the risks for these Recalled Devices."
Over the past few months, dozens of similar Philips DreamStation CPAP lawsuits have been filed throughout the federal court system. The lawsuits each raise similar allegations that years of exposure to CPAP toxic foam particles increase cancer risks, severe respiratory problems and other health complications.
Given common questions of fact and law raised in product liability and class action lawsuits over recalled Philips CPAP devices and other breathing assistance machines, the U.S. Judicial Panel on Multidistrict Litigation (JPML) decided last month to centralize the litigation before Senior U.S. District Judge Joy Flowers Conti in the Western District of Pennsylvania for pretrial proceedings as part of a multidistrict litigation (MDL).
"*" indicates required fields