Nexium, Prilosec and Other PPI Drug May Increase Risk of COVID-19 Infections: Study
July 14, 2020
By: Irvin Jackson
The findings of a new study suggests the side effects of Nexium, Prilosec and similar heartburn drugs could increase the risk of developing COVID-19, adding to prior concerns that the widely used heartburn drugs may make it more likely for users to experience certain types of infections.
In a pre-print report published last week by the American Journal of Gastroenterology, researchers from Cedars-Sinai Medical Center in Los Angeles indicate that a recent survey conducted amid the coronavirus pandemic suggests use of a class of medications known as proton pump inhibitors (PPI), which includes Nexium, Prilosec, Prevacid, Protonix and other blockbuster drugs, should be added to the list of factors that increase the risk of a COVID-19 infection.
PPIs are designed to reduce the amount of acid in the stomach, treating gastroesophageal reflux disease (GERD), as well as heartburn, ulcers in the stomach and small intestines, and inflammation of the esophagus. Drugs that belong to the class include some of the biggest selling medications in the U.S., such as Nexium, Prevacid, Prilosec (and generic omeprazole), Protonix, AcipHex, Dexilant, Vimovo and Zegerid.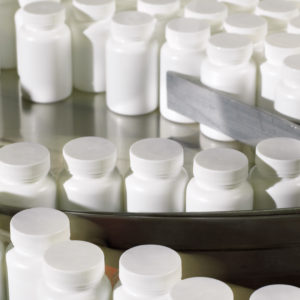 In this latest study, researchers conducted a population-based, online survey from May 3 to June 24, asking 53,130 participants about their use of drugs like Nexium and Prilosec, and whether they have tested positive for a COVID-19 infection.
According to the findings, 3,386 participants in the survey tested positive for the novel coronavirus. However, the researchers found that those who used PPI up to once daily faced more than double the risk of a COVID-19 infection than the rest of the population. Possibly even more telling, those who took a PPI twice daily were more than three and a half times more likely to test positive for the infection.
Those taking non-PPI heartburn drugs, like Tagamet, did not show an increased susceptibility, the researchers found.
"To our knowledge, this is the first study examining the relationship between PPIs and COVID-19 among a population-based sample of Americans," the researchers noted. "Our finding that PPI use is associated with increased odds for acquiring SARS-CoV-2, which invades and replicates within enterocytes, is consistent with prior literature showing that PPIs also increase the risk for other enteric infections."
The findings come after a number of other studies have linked the use of drugs like Nexium and Prilosec with an increased risk of C. diff infections.
A study published in January 2017 indicated that there is nearly three times the risk of a C. diff infection or a Campylobacter infection among heartburn drug users. In November 2014, a report published in the medical journal Microbiome indicated that long-term use of Nexium and similar drugs could reduce the microbial diversity in the body, lowering its ability to fight off c. diff infections.
The FDA first warned of the link between drugs like Nexium and Prilosec and C. diff infections in a drug safety communication issued in February 2012, advising doctors to be aware of the potential connection when presented with patients taking heartburn medications whose diarrhea does not improve.
PPI Kidney and Bone Damage Lawsuits
PPI drugs include some of the best selling and most widely recognized brand name drugs on the market in the United States, including Nexium, Prilosec, Prevacid, Protonix and others. While the drugs are used by millions of Americans and widely viewed as safe, concerns have emerged in recent years about the failure to warn about the risk of kidney damage and kidney failure among users.
There are currently more than 15,000 Nexium lawsuits, Protonix lawsuits, Prilosec lawsuits, Prevacid lawsuits  and claims over other PPIs pending in courts nationwide, each raising similar allegations that users developed chronic kidney disease, acute kidney injury or end-stage renal failure, claiming that they may have avoided the diagnosis if warnings had been provided to consumers and the medical community.
Given similar questions of fact and law raised in the complaints, consolidated pretrial proceedings have been established in the federal court system, where all PPI kidney damage lawsuits are centralized before U.S. District Judge Claire C. Cecchi in the District of New Jersey to reduce duplicative discovery into common issues, avoid conflicting pretrial rulings and serve the convenience of the parties, witnesses and the courts.
"*" indicates required fields