Prostate Cancer Lawsuit Filed Over Firefighter Foam Exposure
March 11, 2021
By: Irvin Jackson
After working for 40 years for the Scottsdale Fire Department, an Arizona man indicates he was diagnosed with prostate cancer caused by firefighter foam, which was repeatedly used during training and response exercises.
Stephen Piechura filed the complaint (PDF) this month in the U.S. District Court for the District of South Carolina, pursuing claims against more than a dozen different companies involved in the manufacture and sale of aqueous film-forming foam (AFFF) products, and the toxic chemicals used in the firefighter foam.
Piechura indicates that he was regularly exposed to per- and polyfluoroalkyl substances (PFAS) in the foam while working as a firefighter from 1979 through 2019. Although the chemicals are known to build up inside the body and pose serious health risks, they were used in the firefighting foam for decades, to help fight certain fuel-based fires.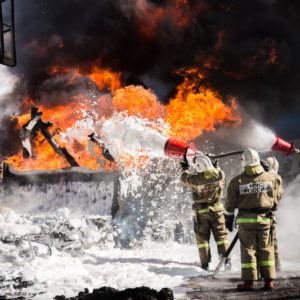 Learn More About
Exposure to firefighting foam chemicals may result in an increased risk of cancer for firefighters, military and airport personnel.
Learn More About this Lawsuit
In March 2019, a biopsy revealed Piechura had a prostatic adenocarcinoma, which he directly related to the firefighter foam exposure. As a result of the cancer diagnosis, he underwent radical prostatectomy in May 2019, and has been left with permanent and severe injuries that may have been avoided if warnings and safety information had been provided by the manufacturers, according to the complaint.
"Defendants' defective design of the fluorochemical products was far more dangerous than plaintiff or an ordinary consumer would expect when used, as Plaintiff did, in an intended and reasonably foreseeable manner," the lawsuit states. "Defendants' fluorochemical products failure to perform safely was a substantial factor in causing Plaintiff's harm."
Experts indicate PFAS chemicals contained in AFFF may take thousands of years to degrade, and past studies have shown their ability to enter and stay in the environment and human body through the air, dust, food, soil, and water.
The toxic chemicals were first introduced into the manufacturing industry in the 1940's, because of their ability to resist heat, grease, stains, and water. However, since then the chemicals have been linked to a myriad of adverse health effects including liver damage, thyroid disease, decreased fertility, high cholesterol, obesity, hormone suppression, and cancer.
Piechura's complaint joins a number of firefighting foam lawsuits filed across the nation, all raising similar allegations of the manufacturers failing to warn of the dangerous PFAS, which have resulted in those exposed to develop testicular cancer, kidney cancer, pancreatic cancer and other injuries.
Due to the growing number of lawsuits over firefighting foam injuries brought throughout the federal court system, centralized pretrial proceedings have been established in the U.S. District Court for the District of South Carolina, where the parties are engaging in coordinated discovery and preparing for a series of early "bellwether" trials designed to gauge how juries are likely to respond to certain evidence and testimony that will be repeated in claims brought by firefighters nationwide.
"*" indicates required fields