Punitive Damages Over Similac NEC Risks Cleared to Move Forward in Lawsuit Against Abbott
July 20, 2023
By: Irvin Jackson
A federal judge has ruled that a Maryland mother will be allowed to seek punitive damages from Abbott Laboratories, in a lawsuit filed over the infant formula manufacturer's failure to adequately warn the medical community about the risk of necrotizing enterocolitis (NEC) from Similac, which left her child with devastating, life-long injuries.
A complaint filed by Keosha Diggs is just one of a growing number baby formula NEC lawsuits being pursued against the makers of Similac and Enfamil, each raising similar allegations that information was concealed for decades about the risks premature infants face from the cow's milk-based infant formula.
Necrotizing enterocolitis (NEC) is a devastating gastrointestinal disease, which primarily impacts premature babies, occurring when harmful bacteria breaches the walls of the intestines, causing portions of the tissue to become inflamed or die. The condition often results in the need for emergency surgery while the baby is still in the NICU, and many infants do not survive NEC.
According to allegations raised by Diggs and other parents pursuing a Similac lawsuit and Enfamil lawsuit, Abbott Laboratories and Mead Johnson placed a desire for profits before the health and safety of newborns by not only failing to adequately warn about the NEC risks, but specifically marketing versions of their formula for use by vulnerable preemies instead of human breast milk.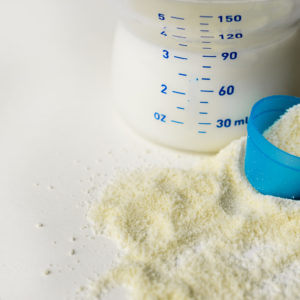 Given similar questions of fact and law raised in the claims, a baby formula MDL (multidistrict litigation) was established last year, centralizing all lawsuits over NEC caused by Similac or Enfamil before U.S. District Judge Rebecca R. Pallmeyer in the Northern District of Illinois, for coordinated discovery and pretrial proceedings.
Similac NEC Punitive Damages to Move Forward
In January, Abbott moved to dismiss the lawsuit filed by Keosha Diggs, which was originally brought in September 2022 and is now consolidated before Judge Pallmeyer.
Diggs' complaint seeks both compensatory damages for her child's NEC diagnosis, as well as punitive damages, which are a more rare award that can be granted to punish a defendant for severe conduct, often resulting in substantially greater jury verdict. However, Abbott argued that the allegations raised in her complaint failed to satisfy the high standard for punitive damages under Maryland law, which requires that a plaintiff establish that the defendant committed a heinous or torturous act.
In a Memorandum Opinion and Order (PDF) issued this week, Judge Pallmeyer denied Abbott's motion to dismiss the punitive damages claim, determining that the allegations raised in the complaint are disturbing enough to meet Maryland's punitive damages standards.
"Plaintiff alleges that 'Defendants have specifically marketed their formulas and fortifiers as necessary to the growth and development of preterm infants, when instead, these products pose a known and substantial risk to these babies'," the memorandum states. "Plaintiff further alleges that Abbott deliberately promoted the use of its products by, for example, intentionally encouraging NICUs to use their cow's-milk-based products to feed preterm infants instead of developing a safety plan to protect preterm infants from NEC."
These allegations are sufficient to allow Diggs' complaint to move forward, since Judge Pallmeyer determined the allegations meet the tough Maryland standard and are backed up by cited scientific studies in the complaint, which a jury could conclude prove that the manufacturers knew or should have known of Similac NEC risks, even as they were promoting the infant formula for use by premature babies.
The ruling does not mean Diggs will prevail in her case, or that the Court will rule the same in other claims. However, with Maryland's punitive damages laws being more stringent than most states, the ruling suggests that Abbott and Mead Johnson will not only face compensatory damages if cases proceed to trial, but also may be hit with substantially greater punitive damage awards, which are typically multiple times the amount of the compensatory damages.
July 2023 Similac NEC Lawsuit Update
As part of the coordinated management of the litigation, Judge Pallmeyer has established a "bellwether" program, where a group of 12 NEC lawsuits brought against the two infant formula manufacturers are going through case-specific discovery, and will be prepared for a series of early trial dates to help gauge how juries will respond to certain evidence and testimony that will be repeated throughout the litigation.
A series of court-ordered infant formula NEC settlement talks will be held between October 15 and October 27, 2023, at which time the parties will participate in mediation on the Bellwether selections, which may also lay the ground work for negotiating an agreement that would settle all claims pending against the two manufacturers.
Although the outcome of these early bellwether trials will not have any binding impact on other claims, they are expected to have a substantial impact on any baby formula NEC injury settlements the manufacturers may offer to avoid the need for each individual case to be remanded back to U.S. District Courts nationwide for separate trial dates in the future.
"*" indicates required fields