Qsymia More Cost-Effective Weight Loss Treatment for Children Than Ozempic, Wegovy: Study
October 20, 2023
By: Irvin Jackson
Amid increasing media attention and marketing for a new generation of antiobesity drugs, such as Ozempic and Wegovy, a new study indicates that Qsymia may be a more cost-effective weight loss solution, at least for children.
Canadian researchers report that even though semaglutide, the active ingredient in Ozempic and Wegovy, can lead to greater weight loss for obese children, when they looked at the cost effectiveness, they found that Qsymia was more affordable, while the cost of semaglutide-based drugs often exceeded a "willingness to pay" threshold used by medical experts to predict consumer reactions. Their findings were published on October 12 in JAMA Network Open.
The American Academy of Pediatrics has recommended that adolescents with severe obesity be treated with weight loss medications, but there is little information available to them about which drugs are safest and most effective.
Qsymia was approved by the FDA in 2012, involving a combination of phentermine, an amphetamine, and topiramate, an antiseizure drug used in Topamax. Phentermine was the "Phen" in Fen Phen, which was recalled due to heart problems, and  topiramate side effects have been linked to women having babies with cleft palate and cleft lip birth defects.
Ozempic, which was originally approved for the treatment of Type 2 diabetes, has been increasingly prescribed for weight loss, which is considered an "off-label" prescription. However, the higher-dose version, Wegovy, is approved specifically for weight loss, even though the two drugs use the same active ingredient. A similar drug, Mounjaro, was approved last year.
Although the drugs have been marketed as safe and effective, concerns have emerged in recent months about painful and debilitating gastrointestinal problems, primarily involving a medical condition known as gastroparesis, or stomach paralysis, which results in delayed emptying of the stomach.
As a result of the drug maker's failure to sufficiently disclose the risk, a number of former users are now pursuing Ozempic lawsuits and Wegovy lawsuits, each raising similar allegations that they developed painful and debilitating stomach problems, which could have been avoided if false and misleading information had not been provided for users and the medical community.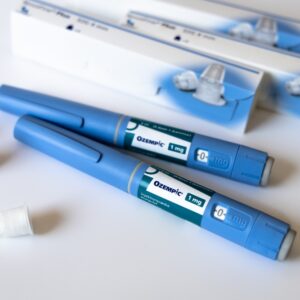 Find Out If You Have a Lawsuit
In this latest study, researchers put aside the health risks and focused on conducting an economic evaluation which compared Qsymia (phentermine-topiramate) with Ozempic and Wegovy, as well as Xenical, Alli and Victoza. The researchers measured the effectiveness by looking at quality-adjusted life-years (QALYs) and costs estimated in 2023 U.S. dollars over 10 years.
Among the four drugs approved for pediatric weight loss, Qsymia, semaglutide drugs like Ozempic and Wegovy, Xenical and Alli (orlistat) and Victoza (liraglutide), Qsymia was the most cost effective, the researchers determined. While the semaglutide drugs led to more QALYs than Qsymia, there was a significant cost difference. Treatment with Ozempic and similar drugs cost $1, 079,480 per quality of life years, while Qsymia cost only $93,620 in comparison.
Researchers noted that the commonly used willingness-to-pay threshold for a drug threshold for consumers is between $100,000 and $150,000 per QALY.
Orlistat-based drugs and Victoza were not as effective as either Ozempic or Qsymia, the researchers determined.
"In this economic evaluation of weight loss drugs for adolescents with severe obesity, we found phentermine-topiramate to be a cost-effective treatment at a willingness-to-pay threshold of $100 000 to $150 000/QALY," the researchers concluded. "Further research is needed to determine long-term drug efficacy and how long adolescents continue treatment."
Ozempic, Wegovy Stomach Paralysis Risks
While this latest study did not focus on the safety aspect of the weight loss drugs, it comes just weeks after the U.S. Food and Drug Administration (FDA) issued new label warnings for Ozempic, indicating that it can increase the risk of intestinal blockages. The warning links Ozempic to a condition known as ileus, which can cause abdominal cramps, bloating, nausea, vomiting, constipation, difficulty passing gas and difficulty eating.
The symptoms of gastroparesis and pancreatitis from Ozempic are similar to ileus, including nausea, vomiting undigested food, abdominal pain, abdominal bloating, severe dehydration, feeling full after only a few bites, undigested food hardening in the stomach, acid reflux, fluctuating blood sugar levels, lack of appetite, weight loss, malnutrition and decreased quality of life. However, some users diagnosed with Ozempic-induced gastroparesis report that the side effects persisted long after the drug is discontinued.
In July, a CNN investigation outlined an alarming number of reports linking Ozempic and gastroparesis, indicating that similar problems have been associated with other drugs in the same class in recent years.
In 2017, researchers with the Mayo Clinic conducted a study involving Victoza, which found that the drug caused significantly slower digestion in users, taking about 70 minutes for half the food they ate to leave their stomachs, compared to four minutes for people who did not take the drug. However, the study found that people's bodies tended to adjust over time.
It is widely expected that or thousands of claims over Ozempic stomach paralysis may be brought in the coming months and years, as well as Wegovy lawsuits and Mounjaro lawsuits over similar gastrointestinal risks associated with these similar medications.
Tags:
Alli,
Children,
Gastroparesis,
Mounjaro,
Obesity,
Ozempic,
Qysmia,
Stomach Paralysis,
Victoza,
Wegovy,
Weight Loss,
Xenical
---
Find Out If You Qualify for Ozempic or Wegovy Compensation
"*" indicates required fields