Radiation Therapy Unnecessary for Some Rectal Cancer Patients: Study
June 09, 2023
By: Stephanie Yanovich
New research suggests radiation therapy is often unnecessary for the treatment of rectal cancer, indicating that chemotherapy is often just as effective for many patients, and could reduce other health risks associated with radiation exposure.
In a study presented this week at the 2023 American Society of Clinical Oncology conference, researchers with the Memorial Sloan Kettering Cancer Center found that most rectal cancer patients with locally advanced tumors that have spread to tissue or lymph nodes can be treated without radiation therapy. The findings were also published on June 4 in the New England Journal of Medicineand the Journal of Clinical Oncology.
Every year, about 40,000 Americans are diagnosed with rectal cancer, which is a form of cancer that begins in the rectum. If caught early, the survival rate is about 90%. Even after it has spread to nearby tissues and lymphnodes, the five-year survival rate is about 75%. However, proper monitoring and treatment are key.
It is well established that radiation therapy, frequently used to treat rectal cancer, can have severe short and long term side effects, impacting quality of life, including infertility, early menopause, incontinence, bladder problems, fatigue, nausea, infection, and neuropathy.
Previous studies have suggested doctors overuse radiation therapy for some types of cancer. Long term health risks associated with radiation treatment are severe, especially if a cancer misdiagnosis leads to unnecessary radiation therapy for tumors that may respond to other, less damaging treatments. Data indicates radiation therapy may increase risk of heart problems in prostate cancer patients, and side effects from breast cancer radiation therapy may increase long term heart disease risk.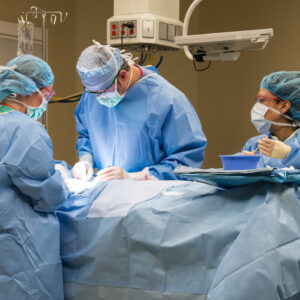 Bard Port Catheter Lawsuit
Rectal Cancer Survival Rates High Without Radiation Therapy
In this latest study, researchers examined 1,128 rectal cancer patients from June 2012 to December 2018. All qualifying patients had tumors confined to local tissue and lymph nodes, not distant organs.
Researchers randomly assigned 543 patients to a control group receiving radiation therapy designed for tumor shrinkage before surgical removal, and 585 patients to a modified group receiving chemotherapy for tumor reduction before surgical removal. The radiation control group received 28 radiation treatments over 5.5 weeks prior to surgical removal, and the modified chemotherapy group received six cycles of chemotherapy therapy prior to surgical removal.
Patients in the modified chemotherapy group underwent magnetic imaging after their final chemotherapy cycle to determine if their tumors shrank by 20% or more. If they had, tumor removal surgery proceeded without supplemental radiation therapy. Patients whose tumors did not shrink by 20% or more received supplemental radiation therapy prior to tumor removal surgery.
According to the findings, only 9% of the chemotherapy group required supplemental radiation before having their tumor removed. Additionally, the disease free survival rate of the modified chemotherapy group five years after surgery was 80.8% versus 78.6% for the radiation group. The overall survival rate five years post surgery was 89.5% for the modified chemotherapy group, comparable to the 90.2% survival rate of the radiation group five years post surgery.
The researchers determined chemotherapy is an important option healthcare professionals should give to qualifying rectal cancer patients when possible, in order to avoid radiation side effects which could reduce their quality of life.
"Having this option is important for several reasons," said Dr. Deborah Schrag, the lead researcher. "First, in many parts of the world, radiation therapy is not readily accessible. An all-chemotherapy approach may make curative intent treatment accessible for patients in these resource-constrained settings. Additionally, given the rising rates of colorectal cancer in young patients, this provides an option for patients who wish to preserve fertility or avoid early menopause."
---
Find Out If You Qualify for Port Catheter Compensation
"*" indicates required fields