Rituxan PML Brain Infections Reported in 57 People
May 26, 2009
By: AboutLawsuits
A new study indicates that at least 57 patients being treated with the lymphoma-fighting drug Rituxan have developed a rare brain infection, known as progressive multifocal leukoencephalitis (PML), and the cases have involved a 90% fatality rate.
According to the study, published in the medical journal Blood, Rituxan users were more likely to develop PML brain infections than first thought, finding 22 previously unknown cases between 1998 and 2008. However, doctors who contributed to the report say that there is no clear reason why Rituxan PML infections occur, and note that the side effect is still extremely rare in comparison to the drug's use.
Rituxan (rituximab) is a chimeric monoclonal antibody drug that causes the immune system to target specific types of cells, such as lumphoma cancer cells, to better help the body fight off the disease. It was approved by the FDA in 1997 for treatment of non-Hodgkin's lymphoma, as well as rheumatoid arthritis. The drug is made by Genentech Inc. and Biogen Idec Inc., with annual sales of about $2.3 billion.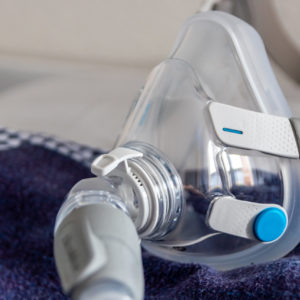 Did You Know?
Millions of Philips CPAP Machines Recalled
Philips DreamStation, CPAP and BiPAP machines sold in recent years may pose a risk of cancer, lung damage and other injuries.
Learn More
One major concern to doctors who worked on the study was the steady increase in the use of Rituxan to treat "off-label" ailments, such as multiple sclerosis and lupus.
"As use of Rituximab expands to diverse clinical settings, clinicians and patients should be aware of the potential for PML after Rituximab therapy," the study warns. "Awareness and reporting of Rituximab-associated PML cases to the FDA are essential to improve our understanding of risk factors, natural course, and alternative therapeutic approaches."
Progressive multifocal leukoencephalitis, also referred to as progressive multifocal leukoencephalopathy or PML, is a rare and often-fatal brain infection caused by a polyomavirus called the JC virus. It involves a progressive inflammation of the central nervous system and the brain, which could cause symptoms such as confusion, blurred vision, speech difficulties, movement problems, dizziness and loss of balance.
Although PML is rare, the brain infection can worsen over time, there is no known cure and it usually results in death.
According to the Rituxan PML study, there was a fatality rate of 100% among those who were diagnosed within three months of their last dose of rituximab and 84% among those who were diagnosed with PML more than three months after the last dose, resulting in an overall Rituxan PML fatality rate of 90%.
Rituxan is one of several drugs that have been linked to PML in recent years. On April 8, 2009, Genentech agreed to issue a phased Raptiva recall, asking physicians to stop prescribing the medication after reports of progressive multifocal leukoencephalitis surfaced. It was determined that the risk of patients developing the fatal brain infection outweighed the benefits provided by the psoriasis medication.
In 2004, Tysabri, an injection used to treat multiple sclerosis and Chron's Disease, was temporarily recalled by the FDA it was linked to PML. Tysabri was reintroduced in 2006 with more stringent usage guidelines to limit the risk of users developing the brain infection, but at least six new Tysabri PML infections have been reported since the drug's return.
cindy

February 4, 2012 at 8:28 pm

There should be some way to make the Drs responcible for giving a drug that a person had a reaction to an then knowingly continue to treat the person with the drug Rituximad Never once say one word about the dangers of this deadly drug. But for some reason told ERstaff when we had her taken by ambulance to hosp to test her 4 PML funny how we never heard about this but told hosp exactly what to te[Show More]There should be some way to make the Drs responcible for giving a drug that a person had a reaction to an then knowingly continue to treat the person with the drug Rituximad Never once say one word about the dangers of this deadly drug. But for some reason told ERstaff when we had her taken by ambulance to hosp to test her 4 PML funny how we never heard about this but told hosp exactly what to test for. I tried for 4 days calling cont. to please call me tell me something anything just tell me what PML is I got a 2pages with all this med stuff i could not understand then under prognosis it said grem 1 to 6 months no cure . I could not understand how this very highly honerd Dr. could not evan take 1 min. to talk to someone he said your cured on her 42 birthday Sept 21 died on Oct 8 of PML an the amazment is he has no problem with not letting her tell her kids an loved onesgoodby yet he put on death cirt. that she had the PML 1MONTH DIAGNSED BEFORwhy can they get away with this no owning up to thier actions an this i know several lawyers have told me in colo no dr. will testify against each other an this Dr.is very well known all over as a leader in cancer treatment an i pray for all of you who has had to be in this situation

susan

January 25, 2011 at 8:46 pm

My mother started Rituximab treatments before it was FDA approved for her illness, CLL, and prior to the PML warning. She contracted PML in late 2008 and died in April 2010. It was the most tragic disease and death. There was no reason for it. Prior to her medication she was still reading, walking, using the computer, listening to her music, etc... after contracting PML, she lost her vision, her m[Show More]My mother started Rituximab treatments before it was FDA approved for her illness, CLL, and prior to the PML warning. She contracted PML in late 2008 and died in April 2010. It was the most tragic disease and death. There was no reason for it. Prior to her medication she was still reading, walking, using the computer, listening to her music, etc... after contracting PML, she lost her vision, her motor skills, her ability to remember things (even who my dad was), she did not think she was at home, she hallucinated all the time, and had her days and nights confused. The good part, if there is any, is that I saw a strength in her that I never saw before, and I don't think I could ever be as strong as she was. I miss her so much. Six months later, my father died of his struggle with COPD... And on top of it I had 3 surgeries last year, my one daughter had one too... my 2 daughters and I found out we have the genetic mutation for cancer BRCA. Fortunately I and my one daughter had preventative surgery, they found cancer in me, but I am cured. Last year was a struggle.. I don't want anyone else to ever have PML, it should be off the market. When the warnings state that if you start to feel these symptoms, to stop.. IT IS NOT ENOUGH, the disease is irreversible.

Mike

January 20, 2011 at 2:15 pm

My Mother suffers from Advanced RA(Rheumatiod Athritis) she has already tried Entanercept( Enbrel) and Remicade(Infliximab), she did not respond at all to Enbrel, and suffered with side effects when she was given an infliximab infusion. The next drug which has been recommended is Rituximab. The doctors and nurses have advised us against PML and I have also been researching my self and very worrie[Show More]My Mother suffers from Advanced RA(Rheumatiod Athritis) she has already tried Entanercept( Enbrel) and Remicade(Infliximab), she did not respond at all to Enbrel, and suffered with side effects when she was given an infliximab infusion. The next drug which has been recommended is Rituximab. The doctors and nurses have advised us against PML and I have also been researching my self and very worried. I am happy my Mother has decided against the treatment, but I am very concerned and upset seeing her in so much pain and discomfort. I would really appreciate it if anyone has any information on what the best form of action would next.

Kim

September 15, 2010 at 4:03 pm

My dad died in 2008 from PML due to taking Rituxan. He was never told or warned about the possibility that this could happen. It's a shame that Doctors are allowed to administer a drug like this and NOT have to tell or warn their patient about this horrible/fatal PML. It's a terrible way to die!!!! Even worse than the Non Hodgkins cancer. Just because my dad agreed to take Rituxan, I don't underst[Show More]My dad died in 2008 from PML due to taking Rituxan. He was never told or warned about the possibility that this could happen. It's a shame that Doctors are allowed to administer a drug like this and NOT have to tell or warn their patient about this horrible/fatal PML. It's a terrible way to die!!!! Even worse than the Non Hodgkins cancer. Just because my dad agreed to take Rituxan, I don't understant why the Doctor isn't liable because he NEVER warned my dad about this. When he started having the symptoms of PML and went to the hospital, a doctor there told my mom to call his cancer doctor. She did & was told that it had nothing to do with his treatments! He started taking it in 2005 or 2006, & the fda issued a warning after the signed off on it. I

cindy

May 26, 2009 at 9:28 pm

My lil sister died on Oct 8 2007 after being treated with Ritukan for cancer.We were never told aboult possibilty of PML or evan heard of it until the end of Sept.when took to ER an told she had PML.tHE WHOLE TIME SHE WAS BEING TREATED WE WERE TELLING CANCER CENTER OF ALL THE SIGNS AN WERE TOLD ITS JUST THE CHEMO NEVER NO MENTION OF POSSIBILTY OF PML.We were told in SEPT the CANCER WAS GONE. THE C[Show More]My lil sister died on Oct 8 2007 after being treated with Ritukan for cancer.We were never told aboult possibilty of PML or evan heard of it until the end of Sept.when took to ER an told she had PML.tHE WHOLE TIME SHE WAS BEING TREATED WE WERE TELLING CANCER CENTER OF ALL THE SIGNS AN WERE TOLD ITS JUST THE CHEMO NEVER NO MENTION OF POSSIBILTY OF PML.We were told in SEPT the CANCER WAS GONE. THE CHEMO HAD WORKED BETTER THAN HOPED FOR. if anyone has gone through this please let me hear from u .I DONT KNOW HOW TO GET ANY HELP.I DONT WANT ANY ONE ELSE TO DIE NEEDLESSLY

cindy

May 26, 2009 at 9:18 pm

My lil sister died on Oct 8 2007 after being treated with Ritukan for cancer.We were never told aboult possibilty of PML or evan heard of it until the end of Sept.when took to ER an told she had PML.tHE WHOLE TIME SHE WAS BEING TREATED WE WERE TELLING CANCER CENTER OF ALL THE SIGNS AN WERE TOLD ITS JUST THE CHEMO NEVER NO MENTION OF POSSIBILTY OF PML.We were told in SEPT the CANCER WAS GONE. THE C[Show More]My lil sister died on Oct 8 2007 after being treated with Ritukan for cancer.We were never told aboult possibilty of PML or evan heard of it until the end of Sept.when took to ER an told she had PML.tHE WHOLE TIME SHE WAS BEING TREATED WE WERE TELLING CANCER CENTER OF ALL THE SIGNS AN WERE TOLD ITS JUST THE CHEMO NEVER NO MENTION OF POSSIBILTY OF PML.We were told in SEPT the CANCER WAS GONE. THE CHEMO HAD WORKED BETTER THAN HOPED FOR. if anyone has gone through this please let me hear from u .I DONT KNOW HOW TO GET ANY HELP.I DONT WANT ANY ONE ELSE TO DIE NEEDLESSLY
"*" indicates required fields