Roundup Trial in California State Court Should Also Be Split Into Two Phases, Bayer Argues
January 24, 2019
By: Austin Kirk
Bayer and Monsanto are asking a California judge to split a March trial over the risk of cancer from Roundup exposure into two phases, indicating that the state court should follow the same procedures recently established by a federal judge presiding over a trial set to begin next month.
Both of the upcoming trials involves allegations that are nearly identical to those presented in more than 10,000 Roundup lawsuits being pursued against Bayer's Monsanto unit, claiming that the manufacturer failed to warn consumers about the risk that glyphosate contained in the popular weedkiller may cause non-Hodgkins lymphoma (NHL) and other forms of cancer.
Given common questions of fact and law raised in cases brought throughout the federal court system, the Roundup litigation has been centralized before U.S. District Judge Vince Chhabria in the U.S. District Court for the Northern District of California, where a series of early "bellwether" trials are set to begin in February 25, to help the parties gauge how juries may respond to certain evidence and testimony that is likely to be repeated throughout the claims.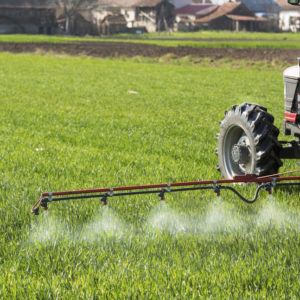 In a controversial decision earlier this month, Judge Chhabria granted Bayer's request to bifurcate the federal Roundup bellwether trials into two phases, where the jury will first consider whether each plaintiff's cancer diagnosis was caused by exposure to the weedkiller, before determining Monsanto's liability for failure to warn and whether damages should be awarded.
In California state court, a lawsuit filed by a husband and wife who claim that they both developed non-Hodgkins lymphoma from Roundup has been set for an early trial date in March 2019, due to their grave health conditions. In motions filed on January 15, Monsanto's attorneys are now requesting similar bifurcation in the state court trial set to begin weeks later.
According to a report by Reuters, Judge Winfred Smith of the California Superior Court is being asked to follow the model set for the federal bellwether trials.
The company argues that failure to split the trial into to two phases could prejudice juries to the point where they ignore scientific evidence the company believes indicates glyphosate does not cause cancer. Plaintiffs have opposed bifurcation, indicating that it prevents the jury from hearing important evidence, and inappropriately may result in jurors wondering during the causation phase how glyphosate could be so dangerous if it has largely gone unregulated for decades.
Monsanto's push to ask the jurors to first consider the question of general causation comes after the company was hammered in the first Roundup trial last summer, where a California jury indicated that the company should be forced to pay $289 million to a former school groundskeeper dying from non-Hodgkins lymphoma. Although the judge presiding over that case later reduced the punitive damage portion of the award, the full amount of compensatory damages were upheld, resulting in a judgment of $78 million, which is currently under appeal.
Following the February and March 2019 trial dates, a series of additional cases are set to go before juries throughout the remainder of the year in state and federal courts, including a multi-plaintiff claim involving more than a dozen individuals diagnosed with non-Hodgkins lymphoma, which are expected to present their claims to a Missouri state court jury in October 2019.
Following these bellwether trials, if Bayer fails to negotiate Roundup settlements or otherwise resolve the litigation against its Monsanto unit, the company will face a steady stream of trials for years, and there has been speculation that it could "spell the end" for the massive pharmaceutical and life sciences company.
"*" indicates required fields