Warning that Roundup's Glyphosate is Possible Carcinogen Upheld By California Appeals Court
April 24, 2018
By: Irvin Jackson
Monsanto has been rejected in another to keep cancer warnings from their Roundup weedkiller products, after a California appeals court found that the state can require that information be provided about the potential risk that the herbicide glyphosate contained in Roundup is a possible carcinogen.
On April 19, California's Fifth Appellate District Court determined that the state can require that glyphosate-based pesticides like Roundup be listed as probable carcinogens on the California's Proposition 65 list, which would require the widely used weedkiller to carry cancer warnings when sold in the state.
A federal judge issued a temporary injunction that blocked the Roundup cancer label warning from going into effect in February, granting a preliminary injunction for Monsanto. However, the state and federal cases are progressing separately, so the state ruling has no effect on the federal injunction currently in place.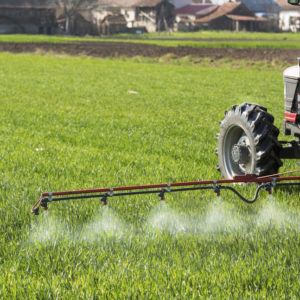 The three-judge appeals court upheld a decision by a lower court judge, who affirmed that the state had the right to list glyphosate as a probably carcinogen and require label warnings, which Monsanto has contested.
Glyphosate was added to the state's Prop 65 list last July, by the California Office of Environmental Health Hazard Assessment (OEHHA), which required Monsanto and other herbicide manufacturers to add a label warning to all weed killers containing glyphosate, indicating that it may be a cancer-causing agent.
The decision to add glyphosate to the list came after the IARC decided to classify glyphosate as a probable human carcinogen in mid-2015.
"All California consumers have the right to know that glyphosate is considered a probably carcinogen, and Proposition 65 ensures that the public obtains that knowledge," Rebecca Spector, west coast director at the Center for Food Safety, which participated in the litigation on the side of the state, said in a press release. "We are pleased that the California Appellate Court prevented Monsanto's attempt to keep the public in the dark about potential hazards from their products."
Monsanto and the other agricultural groups, including the National Association of Wheat Growers, National Corn Growers Association, the Western Plant Health Association and others, have indicate they disagree with the IARC's findings and say that California's decision is not backed up by scientific facts.
The EPA recently denied in its own review that glyphosate is a cancer-causing agent, but the agency's stance on the chemical has been in question following the revelation of the "Monsanto Papers", which is the name given to a number of damning internal documents from Monsanto, which were revealed as part of the ongoing U.S. litigation against Monsanto by farmers, landscapers and other individuals who indicate they developed non-Hodgkin's lymphoma following Roundup exposure.
The memos and emails suggest that the company has known that its herbicide might be dangerous for years, put out ghostwritten studies that were falsely portrayed as the work of independent scientists, and unduly influenced regulators in the U.S. and Europe to avoid any indication that Roundup is not safe. The company even went as far as writing some parts of the safety reviews for regulators, and asked them to squash government inquiries that they could not write themselves, some of the documents suggest.
Roundup Cancer Lawsuits
Throughout the U.S., several thousand Roundup lawsuits have been filed against Monsanto by farmers, landscapers, agricultural workers and others regularly exposed to Roundup, alleging that they may have avoided a diagnosis of non-Hodgkins lymphoma or other cancer if warnings had been provided by Monsanto.
Since October 2016, all federal cases have been consolidated for pretrial proceedings as part of an MDL, or multidistrict litigation, which is centralized before U.S. District Judge Vince Chhabria in the Northern District of California.
As part of the coordinated litigation, it is expected that a small group of bellwether trials will be prepared for early trial dates to help gauge how juries may respond to certain evidence and testimony that will be repeated throughout the cases. However, if Monsanto fails to reach Roundup settlements or another resolution for the failure to warn cases, hundreds of individual lawsuits may eventually be remanded back to the federal courts where they were originally filed for an separate trial dates.
"*" indicates required fields