Monsanto Misleading Public On Roundup Cancer Risks, Lawsuit Claims
September 01, 2016
By: Irvin Jackson
According to allegations raised in lawsuit brought by a man diagnosed with non-Hodgkin's lymphoma, Monsanto has known about the cancer risks from Roundup exposure for decades, yet continues to provide false and misleading information about the safety of the popular weedkiller and its active ingredient, glyphosate.
The complaint (PDF) was filed last week by Michael Tamburello in the U.S. District Court for the District of Colorado, alleging that Monsanto has downplayed and covered up the risks associated with glyphosate for years, and publicly denies that there is any link between Roundup and non-Hodgkin's lymphoma to protect their blockbuster product.
Tamburello claims that he was regularly exposed to the popular weedkiller since at least 2003, indicating that be followed all Roundup safety and precautionary warnings during use. In 2014, Tamburello was diagnosed with non-Hodgkin's lymphoma, which is a type of cancer that the lawsuit alleges has been linked to glyphosate.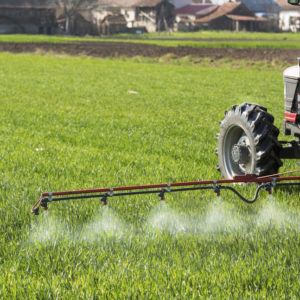 In March 2015, the World Health Organization's International Agency for Research on Cancer (IARC) declared that glyphosate is a probable human carcinogen, sparking a world-wide concerns about the widespread use of Roundup and Monsanto's failure to warn about the importance of limiting exposure.
The case filed by Tamburello joins a growing number of similar Roundup cancer lawsuits filed against Monsanto in recent months by landscapers, farmers and others regularly exposed to large amounts of the chemical. The claims allege that the Monsanto has covered up the glyphosate risks for decades, hiring labs that conducted bogus science and then dismissing the IARC findings, while continuing to maintain the herbicide is safe.
"Glyphosate, and Defendant's Roundup products in particular, have long been associated with serious side effects and many regulatory agencies around the globe have banned or are currently banning the use of glyphosate herbicide products," the lawsuit states. "Despite Defendant's knowledge that Roundup was associated with an elevated risk of developing cancer, Defendant's promotional campaigns focused on Roundup's purported 'safety profile.'"
The lawsuit notes that as recently as of July 2016, Monsanto has made statements claiming that regulatory authorities and independent experts say there is no evidence of a link between glyphosate and cancer, and deny that it is genotoxic, despite the IARC findings and a number of other studies.
An estimated 2.6 billion pounds of the herbicide have been sprayed on America's agricultural land over the two decades, since Monsanto introduced "Roundup Ready" crops that are designed to survive being sprayed with the chemical, killing the weeds but not the crops. However, Tamburello and other plaintiffs allege that the manufacturer failed to disclose the potential cancer link with Roundup or provide adequate safety warnings for farmers, landscapers, homeowners or others regularly spraying Roundup.
As Roundup injury lawyers continue to review and file claims for individuals throughout the United States, it is widely expected that several thousand similar complaints will brought against Monsanto in courts nationwide in the coming months and years.
Shirley

September 2, 2016 at 2:52 am

I have a 2008 toyota corolla. I have had a lot of problems with this car. Wheel baron problem, break problems. Just today my tie rod broke. The car started a screeching noise and would not move. It's sad what we have to go through as customers. I really liked Toyota. That is the only car I drove for the past 25 years. After this time, I am so disappointed. Not sure what to do.
"*" indicates required fields