Roundup Class Action Lawsuit Filed Over Health Side Effects
July 27, 2015
By: Irvin Jackson
Monsanto faces a class action lawsuit over the potential side effects of Roundup, which has recently been classified as a probable human carcinogen and linked to other potential health risks. 
The complaint (PDF) was filed in the U.S. District Court for the Eastern District of New York by a group of six different consumers on June 24, seeking class action status to include other users of the popular grass and weed killer.
Roundup is one of the most widely used herbicides, which was introduced by Monsanto in the 1970s containing the active ingredient glyphosate. However, concerns have emerged in recent months about the potential link between Roundup and cancer, after the World Health Organization's International Agency for Research on Cancer (IARC) issued a warning in March about the potential human health side effects of glyphosate.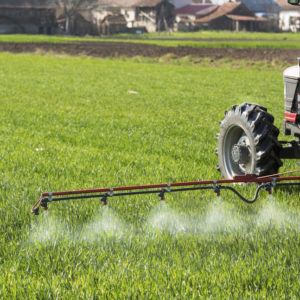 According to allegations raised in the Roundup class action, users have relied on Monsanto's labeling that Roundup is safe for humans, specifically focusing on a statement on the label that reads: "Glyphosate targets an enzyme found in plants but not in people or pets."
Plaintiffs claim that statement is false and that glyphosate contained in Roundup may target an enzyme found in human gut bacteria. The enzyme is called EPSP synthase, which the plaintiffs say that, despite Monsanto's claims, is produced by gut bacteria in the human body.
"Glyphosate is a 'non-selective' weed killer, meaning it kills indiscriminately based only on whether a given organism produces the enzyme EPSP synthase. Most significantly, because our gut bacteria produce EPSP synthase, this means that our gut bacteria are vulnerable to being killed-off by glyphosate," the lawsuit states. "Just like it inhibits backyard weeds from producing EPSP synthase — glyphosate also inhibits our gut bacteria from producing it, and in both cases, the end result is the same; inability to produce the enzyme spells death for both backyard weeds and gut bacteria."
According to the lawsuit, this compromises the human digestive system, metabolism and also lowers vital immune system functions. The imbalance leads to the development of resistant weeds as well as resistant gut bacteria, leaving humans more susceptible to opportunistic pathogens, indigestion and other health problems, the lawsuit states.
The complaint indicates that the widespread use of glyhosate, and it's accumulation in the food chain and human body, is linked to "stomach and bowel problems, indigestion, ulcers, colitis, gluten intolerance, insomnia, lethargy, depression, Crohn's Disease, Celiac Disease, allergies, obesity, diabetes, infertility, liver disease, renal failure, autism, Alzheimer's and endocrine disruption."
The lawsuit seeks compensatory and punitive damages for all individuals who purchased Roundup since June 23, 2011.
Roundup Cancer Concerns
The class action comes as a number of lawyers are reviewing the potential for Roundup cancer lawsuits following a recent determination made by the World Health Organization's International Agency for Research on Cancer (IARC), which declared the chemical a probable carcinogen and linked exposure to a possible risk of Non-Hodgkins Lymphoma, as well as skin cancer, pancreatic cancer, and kidney cancer.
Monsanto has said that the IARC's conclusions were agenda-driven and based on "junk science," and has said it is convening its own independent panel to review the cancer risks of Roundup, which is the most widely used weed killer in the world.
Consumer use of Roundup began to skyrocket in the mid 1990s, after Monsanto introduced genetically engineered crops to withstand treatment with Roundup, killing the weeds and not the crops. Genetically modified crops, like corn and soybean, are branded as being "Roundup Ready."
Some weeds have developed resistance to glyphosate, thus forcing farmers to use higher quantities of Roundup.
The U.S. Geological Survey estimated agricultural use of glyphosate increased drastically from 110 million pounds in 2002, now to more than 283 million pounds in 2012.
The U.S. Environmental Protection Agency (EPA) announced in April that it plans to address the safety concerns of glyphosate during the regular EPA safety review hearing occurring soon. Researchers warn pesticides are commonly detected in the air, food and water near areas that have been sprayed.
France recently banned the sale of Roundup at garden centers across the country, following the WHO cancer warnings. The ban was enacted in April, and French officials said they plan to ban the use of all pesticides for home-gardening by 2022. The decision was reached one month after the findings of the IARC study were published.
Sheila

May 24, 2017 at 11:31 pm

I have used Round Up for many years to control weeds on several acres of land. In 2012 I was diagnosed with Hodgkins lymphoma. There is no history of cancer in my family and I would like more information regarding the potential danger of using or having used this product.

steven

April 23, 2017 at 11:44 am

I use round up at work nyc parks dept for 20 yrs 15 yrs ago I had Large B cell lymphoma stage 3 in my neck, speen and pancreas now I have prostrate cancer

annie

October 30, 2016 at 7:43 pm

used it on weed and walk way for years, without knowing danger. notice breathing problems, had to have nogual removed from lungs do not know reason for this growth. also notice eyes would hurt and durn after use.

ANTHONY

June 10, 2016 at 6:04 pm

IV JUST MOVED IN A NEW HOUSE IV PUT ROUND UP ALL MOST EVER WHERE MY DOCTOE SAID THERE MAYBE SOMETHING WRONG WITH MY LIVER GO BAD IN ALITTLE OVER A MONTH HOW??,,I HAVE BAD HEATH MY LAND LORD GIVE ME MORE TO PUT WHERE I WANT TO,,I FEEL BAD TODAY MY BEAVENHING I HAVE A HALF A LONG ONTHER IS OK,,MY CHEST HURTS NOSE BURNING IT IS REALLY STONG IN MY HOUSE BADLY IM I IN ANY DANGER??

Antonio

April 14, 2016 at 4:51 am

I was recently diagnosed with non hodgkins follicular lymphoma of the small intestine. I've used this product, Roundup, for several years on my yard and have recommended it in the past to others. It looks as if there may be a connection. I will research further. This information is raising some red flags and is very alarming.
"*" indicates required fields