RoundUp Exposure Just Before Birth Linked to Liver Damage, Study Warns
October 20, 2022
By: Irvin Jackson
A new study suggests that exposure to the controversial weedkiller Roundup just before birth may increase the risk of liver damage, due to iron overload.
Brazilian researchers found that perinatal Roundup exposure can lead to an iron overload, which causes oxidative damage to the unborn child's liver, leading to glyphosate-induced hepatoxicity. The findings were published in the November issue of Toxicology and Applied Pharmacology.
Glyphosate is Roundup's primary active ingredient, and this study is just the latest to raise concerns about the risks associated with exposure to the weedkiller, with glyphosate in Roundup already known to increase the risk of non-Hodgkin's lymphoma.
As a result of Monsanto's failure to disclose that risk associated with glyphosate exposure, the company has faced tens of thousands of Roundup lawsuits, which uncovered internal documents that highlighted how the company has covered up negative findings associated with glyphosate for decades, and manipulated study results involving the widely used weed killer.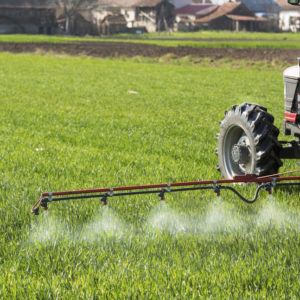 In this latest study, researchers exposed pregnant rats to glyphosate in drinking water from early in gestation to two weeks after birth. They found that perinatal exposure increased an influx of calcium, an increase in iron and changes to the enzymatic antioxidant defense system, leading to liver inflammation and liver damage.
"We propose that excessive amounts of iron in offspring's liver, blood and bone marrow induced by perinatal exposure to (glyphosate) may account for iron-driven hepatotoxicity, which was associated with (calcium) influx, oxidative damage and inflammation," the researchers concluded. "Further studies will clarify whether these events can ultimately impact liver function."
Roundup Lawsuits Over Failure to Warn About Glyphosate Risks
Following the release of other studies that highlighted the link between Roundup and non-Hodgkin's lymphoma, Monsanto has faced litigation brought on behalf of individuals diagnosed with the blood cancer, each raising similar allegations that the manufacturer failed to adequately warn about the risks associated with glyphosate exposure.
Following several years of litigation and massive verdicts returned in a number of early trials, Monsanto has agreed to pay billions in Roundup settlements for former users diagnosed with non-Hodgkin's lymphoma, and the companies are expected to continue to face claims over the glyphosate-based weed killer for years to come.
In response to the growing concerns and massive verdicts, the manufacturer announced plans last year to remove glyphosate from Roundup versions of the weed killers sold to U.S. residential customers by 2023. The products would still be sold under the Roundup label, but would use a different active ingredient, which has not been linked to a risk of non-Hodgkin's lymphoma and other side effects. However, glyphosate would still be used in products sold to agricultural businesses and farmers, and in product sold in other parts of the world.
"*" indicates required fields