Communities May Be Forced To Use Roundup By States If GOP Farm Bill Provision Passes
September 07, 2018
By: Irvin Jackson
Environmentalists say that a provision in the proposed "Farm Bill" could take away the ability of local communities to protect their residents from exposure to Roundup and other glyphosate-based weedkillers, which have been linked to an increased risk of non-Hodgkins lymphoma and other health problems. 
According to press release issued this week by the Environmental Working Group (EWG), Sec. 9101 of the Farm Bill proposed in the U.S. House of Representatives contains a four-page provision tghat bars cities and counties from adopting their own pesticide regulations that are different from those of the leading state agency.
EWG indicates that this would, in effect, undo 58 local ordinances that ban Roundup and glyphosate herbicides, which have been enacted in response to growing concerns about the health risks. In addition, another 155 local ordinances regulating the use of toxic chemicals in parks and playgrounds could also be affected.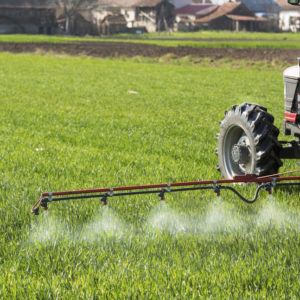 The Farm Bill provision would also ban communities from making future ordinances that could be designed to protect the public from exposure to toxic chemicals.
Roundup and glyphosate contained in the widely used weedkiller have been linked to a potential risk of non-Hodgkin's lymphoma and other forms of cancer. These concerns first gained widespread attention after the World Health Organization's International Agency for Research on Cancer (IARC) determined that glyphosate was a probable human carcinogen in 2015.
"Children are especially susceptible to the health impacts of toxic pesticides, so our communities should be able to decide whether our kids are rolling around in weed killers linked to cancer while playing at the park," Scott Faber, EWG's senior vice president of government affairs, said in the press release. "Section 9101 of the House farm bill would block our communities from keeping our kids safe."
The National League of Cities and the National Association of County Officials have opposed the provision. Last week 107 members of the House sent a letter (PDF) to the House and Senate committees on agriculture opposing this provision and a number of others which they say would make the public more vulnerable to exposure to toxic substances.
Roundup Cancer Lawsuits
The debate over the provision also comes on the heels of a $289 million verdict in a product liability lawsuit brought against the makers of Roundup by a California man dying of non-Hodgkin's lymphoma. In that case, the jury determined that Monsanto was liable for former school groundskeeper DeWayne Johnson's non-Hodgkin's lymphoma diagnosis, and slapped the company with massive punitive damages for its actions in failing to warn the public of the potential health risks.
Monsanto faces thousands of similar Roundup lawsuits in the United States, involving claims that agricultural workers, farmers and even home gardening enthusiasts developed non-Hodgkin's lymphoma diagnoses following exposure to glyphosate contained in the weedkiller.
In addition other to cases pending in California state court and Missouri state court, where Monsanto's headquarters are located, all cases filed in the federal court system are current centralized as part of a multidistrict litigation (MDL) before U.S. District Judge Vince Chhabria in the Northern District of California.
Weeks before the Johnson verdict, Judge Chhabria dealt another major blow to Monsanto, ruling that plaintiffs in the federal litigation had presented sufficient evidence about the non-Hodgkins lymphoma risk from Roundup to survive summary judgment. As a result, the federal litigation will proceed to a bellwether trial phase, where a small group of representative cases will be selected to go before juries, to help gauge the relative strengths and weaknesses of different fact patterns that may be common across large numbers of cases.
Monsanto was recently acquired by Bayer in June 2018, and the company has indicated that it plans to get rid of the Monsanto brand name.
"*" indicates required fields