Roundup Exposure May Be Damaging Key Building Block Of The Food Chain, Study Warns
January 08, 2021
By: Irvin Jackson
The findings of new research indicates exposure to Roundup and other glyphosphate-based weed killers may cause harm to organisms which form the base of the food chain.
In a study published last month in the medical journal Microbiome, researchers indicate that chronic Roundup exposure may cause embryonic development failure in a keynote species at the bottom of the food web. However, the findings also indicate the effects on these species cascade throughout the ecosystem and could even affect gut microbiota.
There has been growing concern over the risks associated with glyphosate contained in Roundup since 2015, when the World Health Organization's International Agency for Research on Cancer (IARC) determined it was a probable carcinogen, with evidence suggesting it may increase the risk of non-Hodgkins lymphoma (NHL) and certain other cancers.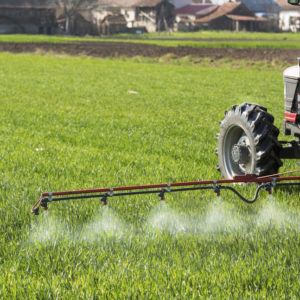 Bayer and its Monsanto subsidiary currently face more than 125,000 Roundup lawsuits alleging the manufacturers failed to warn consumers about the cancer risks associated with exposure to the weed killer, with a handful of early trials ending in massive verdicts against the manufacturer.
In this latest study, researchers from the U.K. looked at the effect of glyphosate on the water flea, Daphnia, which is considered a keystone species for the aquatic ecosystems found in lakes and ponds, meaning what happens to the flea impacts the rest of the surrounding ecological web. They found that exposure at thresholds allowed in U.S. drinking water, can induce embryonic development failure, DNA damage, and other problems in the species, which would then travel up the food chain, causing problems for other species.
The researchers also found that chronic Roundup exposure impacted gut microbiota functionality and could interfere with carbon and fat metabolism.
"The ecological model species Daphnia occupies a central position in the food web of aquatic ecosystems, being the preferred food of small vertebrates and invertebrates as well as a grazer of algae and bacteria," the researchers warned. "The impact of the weedkiller on this keystone species has cascading effects on aquatic food webs, affecting their ability to deliver critical ecosystem services."
Roundup Lawsuits
In June, Bayer announced a Roundup settlement agreement that would include payments of $8.8 billion to $9.6 billion to resolve about two-thirds of the current cases pending nationwide. However, individual plaintiffs are still evaluating whether to accept their offers and few, if any, cases have actually been dismissed.
Settlement negotiations heated up earlier this year, as a series of additional cases were set to go to trial nationwide throughout 2020. However, even if the current claims are resolved, Bayer is likely to face a steady flow of future lawsuits over failure to warn about the link between Roundup and non-Hodgkins lymphoma, as former users continue to be diagnosed with the disease in the future.
"*" indicates required fields