Discovery Of Unapproved GMO Roundup-Ready Wheat Raising Health Concerns
August 03, 2016
By: Irvin Jackson
Environmentalists and activists who oppose the spread of genetically modified organisms (GMOs) are raising concerns about the discovery of "Roundup Ready" wheat in an unplanted field in Washington state. 
The discovery, announced in a press release by the U.S. Agriculture Department last week, was made by a farmer who found 22 of the plants growing in an unplanted field.
The episode increases doubts that it will be possible to keep GMOs out of the food supply, which could negatively affect trade relations with some countries and could also increase the use of Roundup and other glyphosate-based pesticides.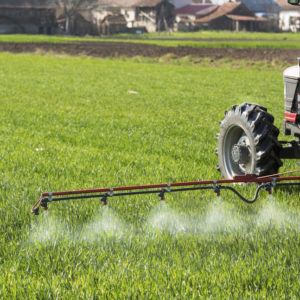 Monsanto, the manufacturer of the strain of wheat discovered last week, and the manufacturer of Roundup weed killer, has designed a number of crops to be "Roundup Ready," meaning they are specifically designed to be used with the weed killer. The spread of Roundup Ready crops has contributed to Roundup becoming the most applied weed killer on the planet. However, no strain of GMO wheat is currently approved by the USDA for sale in the U.S.
A similar discovery in Oregon in 2013 resulted in a temporary ban on wheat exports to several Asian countries in 2013, who were not sold on the safety of GMOs.
The farmer who discovered the wheat has had his entire wheat harvest held up for testing, to ensure that the unapproved Roundup Ready wheat does not enter the food chain.
Roundup Cancer Concerns
The discovery comes amid increased concern over the safety of glyphosate, including debate over the link between exposure to Roundup and non-Hodgkin's lymphoma, as well as other cancers.
In March 2015, the World Health Organization's International Agency for Research on Cancer (IARC) declared that glyphosate is likely a cancer-causing agent, and the EPA is currently conducting a safety review of glyphosate.
Amid the continuing debate within the regulatory community, Monsanto now faces a growing number of Roundup cancer lawsuits in the United States, typically involving individuals diagnosed with a form of non-Hodgkin's lymphoma following heavy exposure to the herbicide as a farm or agricultural worker.
The complaints allege that the manufacturer recklessly promoted Roundup and pushed greater and greater use of the chemical, without disclosing the potential health risks.
A recent U.S. Geological Survey on glyphosate usage nationwide found that an estimated 2.6 billion pounds of the herbicide has been sprayed on America's agricultural land over the two decades since the mid-1990s, when Monsanto introduced "Roundup Ready" crops that are designed to survive being sprayed with glyphosate, killing the weeds but not the crops.
"*" indicates required fields