Roundup Residue Detected in 95% of School Lunches in U.S.: Report
October 03, 2022
By: Irvin Jackson
Concerns about potential long-term side effects from Roundup exposure are increasing, following the release of a new report that shows nearly all school lunches served to children nationwide were found to contain levels of glyphosate, which is the active ingredient in widely used weedkiller.
The group Moms Across America issued a report on national school lunch testing on September 28, outlining the levels of glyphosate, pesticides, heavy metals, hormones and nutrients in food served by schools throughout the U.S.
More than 95% of school lunches tested were found to contain detectable Roundup residue from glyphosate, three-quarters contained at least one harmful pesticide, and many contained ingredients known to be immune system suppressants, toxins, or known to cause thyroid disease, according to the report.
The findings were the result of a nationwide project that tested 43 school lunches across 15 states. The researchers sampled the lunches for a variety of health threats to children. The organization indicates this is a representative sample of the 30 million genetically modified school meals served in the U.S. every day.
"These test results of the school lunches show us that we have a national crisis on our hands," Moms Across America Director Zen Honeycutt said in the press release. "Our government is allowing our children to be poisoned with a shocking number of toxins that contribute to various health, behavioral, and learning issues. In addition, the nutrient density of the food is almost completely deficient, leaving our children's bodies starving for nutrients, unable to develop properly, and lacking nutrients that their brains need to learn and make sound decisions."
Roundup Residue Widespread
According to the findings, 95.3% of the school lunches tested contained detectable levels of glyphosate, which is a Roundup residue. The highest levels were found in beef tacos using soft tortillas, which had 286.77 nanograms per gram (ng/g), and pizza at 156.1 ng/g.
Not only is Roundup used to defend crops against invasive weeds, but it is often used as a drying agent for wheat and other grains, and was found in 100% of the wheat products used in school lunches.
In 2015, the World Health Organization's International Agency for Research on Cancer (IARC) decided to classify glyphosate as a probable cancer-causing agent, and direct exposure to the weedkiller has been linked to reports of non-Hodgkins lymphoma.
The researchers noted that levels of glyphosate above 25 ng/g have been determined to be harmful in animal studies, especially when consumed consistently and with other items that contain glyphosate. In addition to carrying a potential risk of cancer, the researchers warn glyphosate can be an endocrine disrupter, can damage sperm and the reproductive system, could cause nervous system damage, and could lead to liver and kidney disease.
Roundup Lawsuits Over Failure to Warn About Glyphosate Risks
Following the release of other studies that highlighted the risk of non-Hodgkins lymphoma, thousands of Roundup lawsuits have been brought against Monsanto in recent years, each raising similar allegations that the manufacturer failed to adequately warn about the cancer risks associated with glyphosate and manipulated studies to avoid regulations that would limit use of the weedkiller.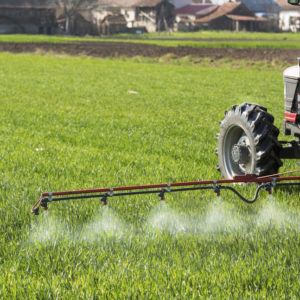 Following several years of litigation and massive verdicts returned in a number of early trials, Bayer and its Monsanto subsidiary have agreed to pay billions in Roundup settlements for former users diagnosed with non-Hodgkins lymphoma, and the companies are expected to continue to face claims over the glyphosate-based weedkiller for years to come.
Other Residue in School Lunches Served to Children
In addition to concerns about Roundup residue in foods served as school lunches, the report released by Moms Across America also found that 74% of samples contained at least one of 29 pesticides known to be harmful, and all of the samples contained levels of heavy metals, with some containing nearly 6,300 times the maximum level of heavy metals the U.S. Environmental Protection Agency allows in drinking water. The highest levels of heavy metals detected in children's school lunches were from cadmium and lead.
The report also indicates that 27.9% of school lunches contained thiabendazole, an immune suppressant, and 41% of samples contained piperonal butoxide, a toxin which can cause neurodevelopment disruptions and birth defects.
In addition, the researchers found that most samples contained "abysmally low" levels of actual nutrients, such as calcium, iron, copper, and zinc, among others.
"Moms Across America asserts that our toxic food supply and its lack of nutrients, specifically school meals, is a major contributing factor to our children's and our nation's mental and physical health decline," the researchers concluded. "We call for school lunch providers to immediately source fresh, organic, and regeneratively grown ingredients to supply safe, clean, toxin-free, nutrient-dense food to the children of our great nation."
"*" indicates required fields