Roundup Safety Standards Should Be Reassessed: Report
March 29, 2017
By: Austin Kirk
A group of researchers from the U.S. and U.K. are calling for a new assessment of the safety risks of glyphosate, the active ingredient in the weedkiller Roundup, which has been linked to an increased risk of non-Hodgkin's lymphoma and other cancers. 
An essay was published this month in the medical journal The BMJ warns that the use of glyphosate and glyphosate-based herbicides (GBHs) has increased 100-fold since it was first introduced in 1974, raising serious concerns since safety profiles of the chemical being generated today are still based on studies conducted more than 30 years ago.
Researchers note that environmental health science methods have improved vastly over the past 30 years, with the introduction of cutting-edge technology and new methodologies and knowledge about how such substances could affect the environment.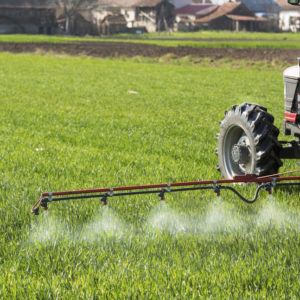 "Human exposures to glyphosate are rising, and a number of in vitro and in vivo studies challenge the basis for the current safety assessment of glyphosate and GBHs," the researchers note. "We conclude that current safety standards for GBHs are outdated and may fail to protect public health or the environment."
The essay calls for three major improvements that could help better define glyphosate safety risks, including monitoring humans for glyphosate and its metabolites; making glyphosate and GBH hazard assessments a priority that includes state-of-the-art toxicology studies; conducting epidemiological studies with a focus on agricultural workers who undergo regular Roundup exposure, as well as pregnant women and children; and evaluating what effects commercially used formulations have on glyphosate, in addition to studies on the effects of glyphosate alone.
The concerns come as Monsanto faces a growing number of Roundup lawsuits filed by farmers, landscapers and other agricultural workers diagnosed with non-Hodgkin's lymphoma or other forms of cancer following regular and consistent exposure to the glyphosate-based weedkiller, alleging that the manufacturer knew or should have known about the risk, yet withheld important warnings and safety precautions from consumers.
The litigation has emerged since information about the link between Roundup and non-Hodgkin's lymphoma became more widely known, following a warning issued by the World Health Organization's International Agency for Research on Cancer (IARC) in March 2015, which classified glyphosate as a probable human carcinogen.
A recent U.S. Geological Survey on glyphosate usage nationwide found that an estimated 2.6 billion pounds of the herbicide has been sprayed on America's agricultural land over the two decades since the mid-1990s, when Monsanto introduced "Roundup Ready" crops that are designed to survive being sprayed with glyphosate, killing the weeds but not the crops.
"*" indicates required fields