Monsanto Faces Scientific Fraud Claims In Farm Worker Roundup Lawsuits
October 16, 2015
By: Irvin Jackson
An increasing number of lawsuits are being filed against Monsanto by farm workers and others diagnosed with cancer allegedly caused by side effects of Roundup, claiming that company's popular herbicide has only stayed on the market this long due to scientific fraud. 
The complaints come in the wake of an international organization classifying glyphosate, Roundup's active ingredient, as a probable carcinogen.
According to allegations raised in the Roundup lawsuits, Monsanto failed to warn that glyphosate could cause cancer, and intentionally misled both farm workers, consumers and government safety agencies.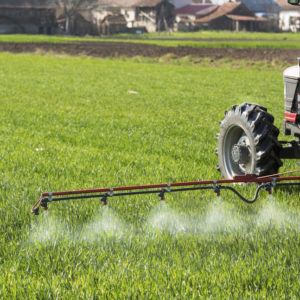 Roundup is one of the most widely used herbicides, which was introduced by Monsanto in the 1970s. However, concerns have emerged in recent months about the potential link between Roundup and cancer, after the World Health Organization's International Agency for Research on Cancer (IARC) issued a warning in March about the potential human health side effects of glyphosate.
Consumer use of Roundup began to skyrocket in the mid 1990s, after Monsanto introduced genetically engineered crops to withstand treatment with Roundup, killing the weeds and not the crops. Genetically modified crops, like corn and soybean, are branded as being "Roundup Ready." Some weeds have developed resistance to glyphosate, thus forcing farmers to use higher quantities of Roundup.
The U.S. Geological Survey estimated agricultural use of glyphosate increased drastically from 110 million pounds in 2002, now to more than 283 million pounds in 2012.
While in recent years the EPA has deemed the chemical safe, that was not always the case.
"Based on early studies that glyphosate could cause cancer in laboratory animals, the EPA originally classified glyphosate as possibly carcinogenic to humans in 1985. After pressure from Monsanto, including contrary studies it provided to the EPA, the EPA changed its classification to evidence of non-carcinogenicity in humans in 1991," states a lawsuit filed by Enrique Rubio, a farm worker who suffers from bone cancer after years of Roundup exposure. "In so classifying glyphosate, however, the EPA made clear that the designation did not mean the chemical does not cause cancer."
"Independent" Labs Convicted of Fraud on Glyphosate Safety Studies
The studies Monsanto used to convince the EPA to change its mind are at the core of the claims of scientific fraud.
The laboratory that conducted initial evaluations of glyphosate toxicity was Industrial Bio-Test Laboratories (IBT). The lab conducted 30 tests on glyphosate and products containing glyphosate. It supplied nine of the 15 residue studies required by the EPA when the chemical was first approved.
In 1976, the FDA conducted an inspection of IBT and found problems in the raw data and final reports of the toxicological impacts of glyphosate. That led to an audit by the EPA, which determined that the lab's toxicology studies of glyphosate were invalid due to "routine falsification of data."
"It is also somewhat difficult not to doubt the scientific integrity of a study when the IBT stated that it took specimens from the uteri (of male rabbits) for histopathological examination," one EPA reviewer noted.
Ultimately, three top IBT executives were convicted of fraud in 1983.
Another laboratory, Craven Laboratories, was found to have been involved in fraudulent laboratory practices in its testing of herbicides and pesticides in 1991; the same year Monsanto hired it to conduct herbicide and pesticide studies on glyphosate. Three of the company's employees were indicted and convicted on fraud charges. Roundup residue studies were again found to have falsified data.
The lawsuits claim that Monsanto knew the herbicide was unsafe for years, pointing out the history of falsified data. In addition, in 1996 the company came under fire by the New York Attorney General's office, which sued the company for making false and misleading claims about Roundup's safety.
The company claimed in advertisments that Roundup was "safer than table salt" and "practically non-toxic" to animals. The New York AG's office forced the company to enter into an Assurance of Discontinuance agreement in November 1996 to stop making such claims.
Roundup Cancer Risk
Throughout the recently mounting concerns about the safety of Roundup, Monsanto has continued to maintain that the IARC's conclusions were agenda-driven and based on "junk science."
In an attempt to fight back against the evidence linked to their popular product, Monsanto has said it is convening its own panel of experts to review the cancer risks of Roundup.
Given the company's history with glyphosate testing and data, critics question whether an independent Monsanto review would have merit, particularly considering both IBT and Craven Laboratories were supposed to be independent labs as well.
The U.S. Environmental Protection Agency (EPA) announced in April that it plans to address the safety concerns of glyphosate during the regular EPA safety review hearing occurring soon. Researchers warn pesticides are commonly detected in the air, food and water near areas that have been sprayed.
"*" indicates required fields