Roundup Health Risks Lead France to Propose Ban On Weedkillers with Glyphosate and Tallowamine
April 11, 2016
By: Irvin Jackson
French officials are proposing a ban on the use of weedkillers that combine glyphosate, the active ingredient in Monsanto's Roundup, and Tallowamine, a chemical used to get plants to more easily abosorb herbicides. In addition, some in France are calling for a total glyphosate ban, amid recent concerns about potential Roundup health risks, including non-Hodgkin's lymphoma and other cancers. 
The French health agency, ANSES, issued a letter last week to Monsanto and other manufacturers of weedkillers that combine glyphosate and tallowamine, indicating that it intends to withdraw approval for the products in the country.
France was also one of four nations, including Italy, Sweden and The Netherlands, who opposed the renewal of a 15-year license for glyphosate at an European Commission's pesticide committee meeting earlier this month. The current license could expire in June, if glyphosate is not approved at the next meeting scheduled for May 18-19, it could potentially result in a Roundup recall from the market.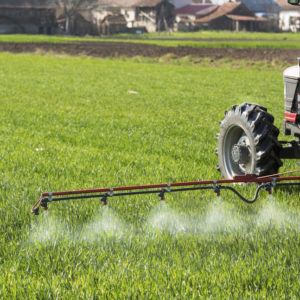 The Netherlands has called for renewal of the license to wait until after a glyphosate safety evaluation is completed next year.
The potential side effects of Roundup and glyphosate have been a growing subject of debate worldwide, since the World Health Organization determined last year that the popular weedkiller and herbicide is a probable human carcinogen.
The use of glyphosate has skyrocketed in recent years, amid Monsanto's marketing strategy of creating "Roundup Ready" genetically modified seeds for crops, which are designed to withstand heavy use of the glyphosate. However, this has resulted in more and more of the herbicide being sprayed on farm lands.
To date, about 18.9 billion pounds of glyphosate have been sprayed on the world's crops, according to estimates of a recent study. Researchers found that glyphosate use has increased almost 15-fold since the introduction of "Roundup Ready" crops in 1996.
Monsanto called France's actions political, and suggests that they are not based on any real threat to the public. However, manufacturers of herbicides that include glyphosate and tallowamine have already withdrawn their products from Germany, and Monsanto officials also said that they have already moved away from tallowamine use.
ANSES does not expect a final decision for several weeks and is giving mnanufacturers a two week comment period.
The move in France adds to the growing problems faced by Monsanto involving their blockbuster product, including a number of Roundup cancer lawsuits filed by individuals throughout the U.S., including both as individual claims bought on behalf of farm workers exposed to high levels of glyphosate and consumer class action lawsuits.
"*" indicates required fields