Roundup Work Exposure Resulted in Large NK/T-Cell Lymphoma Diagnosis, Lawsuit Alleges
February 07, 2017
By: Irvin Jackson
A former groundskeeper has filed a lawsuit against Monsanto, alleging the work exposure to Roundup, caused him to develop NK/T-cell lymphoma from years of spraying the weedkiller without appropriate protective gear. 
The complaint (PDF) was filed by Paul Galvan in the U.S. District Court for the Eastern District of California on January 31, indicating that Monsanto withheld information from consumers about the serious health risks associated with Roundup and glyphosate contained in the herbicide, which has been linked to a risk various subtypes of non-Hodgkins lymphoma.
Galvan was exposed to Roundup for years while working as a groundskeeper in various jobs around the state. He indicates that he was first exposed to the glyphosate-based weed killer in 1980, working for the California Department of General Services. He then worked as a grounskeeper for the department in various positions through 1991, usually only wearing a jeans, work shirt and work boots, since Monsanto had claimed Roundup was "safer than table salt."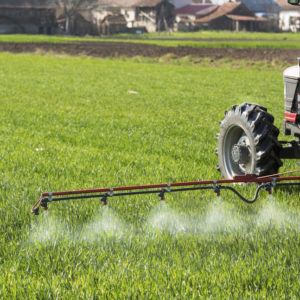 He worked for the California Department of Transportation from 1991 to 2012, using Roundup to control weed growth on the state's highways, rest areas and land fixtures. During this time, he was given a protective suit, rubber gloves, and rubber boots, but was not provided a face mask or respirator.
In 2015, he was diagnosed with NK/T-cell lymphoma, which is a form of non-Hodgkin's lymphoma, a rare and aggressive form of cancer that usually manifests in the nose, nasal cavities or tonsil areas. As a result of the cancer allegedly caused by Roundup work exposure, Galvan had to undergo several chemotherapy treatments, radiation therapy, and also underwent a lumbar puncture.
"Mr. Galvan is currently retired and receiving treatment at City of Hope-Oncology, where he is monitored every six months by his oncologist and every three months by his ear nose & throat doctor," the lawsuit states. "During the entire time that Mr. Galvan was exposed to Roundup, he did not know that exposure to Roundup was injurious to his health or the health of others."
The lawsuit indicates that Galvan did not know of the link between Roundup and non-Hodgkin's lymphoma until after July 2015, when the World Health Organization's International Agency for Research on Cancer (IARC) first published monographs of a determination that Roundup and other glyphosate herbicides are potential human carcinogens.
Monsanto now faces a growing number of similar Roundup lawsuits filed on behalf of farmers, landscapers, agricultural workers and others regularly exposed to large amounts of the weedkiller, each involving allegations that plaintiffs were diagnosed with non-Hodgkin's lymphoma (NHL) because the manufacturer failed to provide safety warnings.
Plaintiffs maintain that they may have avoided a cancer diagnosis if they had been warned about the Roundup risks for farmers, landscapers and others in the agricultural industry, as safety precautions could have been taken or other products could have been used to control the growth of weeds.
Patricia

February 16, 2017 at 2:35 am

My husband sprayed Roundup and something commercial, we were fired because of calling EPA and water board at local and state level, we both developed symptoms almost two years after living and working there. We have just finished up employment suit (disclosure signed saying we never worked there). The agencies never tested soil water for us and now the statute of limitations has run out. The owner[Show More]My husband sprayed Roundup and something commercial, we were fired because of calling EPA and water board at local and state level, we both developed symptoms almost two years after living and working there. We have just finished up employment suit (disclosure signed saying we never worked there). The agencies never tested soil water for us and now the statute of limitations has run out. The owner was violated on our copy of local EPA departments report, still do not know what we were exposed too.........Because they all but refused to do testing

Star

February 14, 2017 at 7:39 am

They- monsucko, big government, big pharma, FDA/DEA just cares about $$$$$$$! They are all greedy bought off,selfish, they don't even care about future generations-their kids and g-kids!

Beverly

February 13, 2017 at 12:38 pm

Our son died from Burkitt lymphoma, another rare and very aggressive non-Hodgkin lymphoma. The entire neighborhood used weed killer on their lawns and the kids played there. I always suspected it could have been a big factor in the cause. That was 18 years ago.

PAULETTE

February 13, 2017 at 2:15 am

What is this doing to our water supply? Spraying ditches and roadsides where rain run off occurs. This is dangerous to everyone!

mindy

February 9, 2017 at 3:40 am

Monsanto's Roundup...safer than table salt! SURE! f#cking CRIMINALS
"*" indicates required fields