Roundup Wrongful Death Lawsuit Claims 25 Years Of Applications Led To Fatal Cancer
January 10, 2019
By: Irvin Jackson
Monsanto faces a wrongful death lawsuit brought by the wife of a man who died of non-Hodgkin's lymphoma, which indicates that the fatal cancer diagnosis resulted from exposure to the weedkiller Roundup. 
The complaint (PDF) was filed by Thalia Gander late last month in the Superior Court of Delaware, on behalf of herself and her deceased husband, Rusty Gander.
Although Monsanto allegedly knew or should have known about the link between linked to Roundup applications and non-Hodgkins lympoma, the lawsuit indicates that the manufacturer failed to provide warnings or proper safety instructions for users.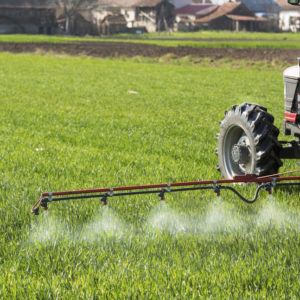 Gander indicates that her husband purchased and used Roundup for 25 years, regularly applying the weedkiller between 1974 to 1999. He was diagnosed with non-Hodgkin's lymphoma in 2011, and later later died as a result of the cancer.
"At all times relevant to this litigation, Defendant's Roundup products were manufactured, designed, and labeled in an unsafe, defective, and inherently dangerous manner that was dangerous for use by or exposure to the public, and, in particular, the Plaintiffs," Gander's lawsuit states. "Defendant's Roundup products….were defective in design and formulation in that when they left the hands of the Defendant's manufacturers and/or suppliers, they were unreasonably dangerous and dangerous to an extent beyond that which an ordinary consumer would contemplate."
Roundup contains the herbicide glyphosate, and has been widely marketed throughout the United States to kill weeds. However, in 2015, health officials began to warn that exposure may increase the risk of non-Hodgkins lymphoma and other cancers.
Gander's complaint, and thousands of similar Roundup lawsuits being pursued nationwide, allege that Monsanto knew or should have known that Roundup was inherently dangerous and unsafe when used in the manner instructed, yet actively concealed information from consumers and federal regulators.
More than 10,000 claims are currently pending nationwide, with a number of "bellwether" trials set to go before juries this year to help gauge how juries are likely to respond to certain evidence and testimony that is likely to be repeated throughout the litigation.
In late August, the first trial in the country resulted in a $78 million judgment for a former California school groundskeeper diagnosed with non-Hodgkins lymphoma, who was granted an early trial date because he is dying from non-Hodgkins lymohoma.
In the federal court system, where all claims have been centralized as part of a multidistrict litigation (MDL) before U.S. District Court Judge Vince Chhabria in the Northern District of California, a series of early trial dates are set to begin late next month. In addition, more than a dozen other claims are set to go to trial in California and Missouri state court in 2019.
While the outcomes of these bellwether trials are not binding on other plaintiffs, if Monsanto fails to reach Roundup settlements or otherwise resolve the litigation, hundreds of individual cases may be set for trial in the coming years.
Jason

August 28, 2020 at 4:57 pm

My father was diagnosed with lymphoma and 6 months ago he died.i have a claim filed against Roundup for their product causing cancer. my question is could I file a wrongful death if I have a cancer claim already going or could I drop the cancer claim and switch to wrongful death sense it seems to be the better way to receive compensation.thank you
"*" indicates required fields