Shower-to-Shower Ovarian Cancer Lawsuit Filed After Lifetime of Use
October 25, 2016
By: Irvin Jackson
Johnson & Johnson faces a wrongful death lawsuit over failure to warn about the potential side effects of Shower-to-Shower, a popular talcum-based body powder that allegedly caused a Florida woman to develop ovarian cancer after using it for feminine hygiene for most of her life.
The complaint (PDF) was filed last week in the U.S. District Court for the Southern District of Florida by Scott Dawson, who indicate that his mother, Holly Anderson, died from ovarian cancer in October 2014, after using Shower-to-Shower for more than 40 years.
Although talcum powder is most commonly associated with use among infants to prevent diaper rash and maintain smooth skin, the products are widely used among adult women and Johnson & Johnson has promoted such use to maintain "personal freshness." Given the popularity of Johnson's Baby Powder among adult women, the company introduced and marketed Shower-to-Shower body powder for this specific purpose.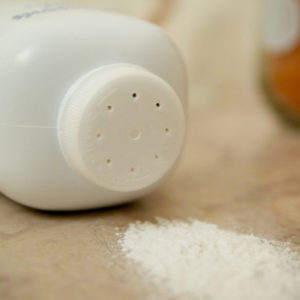 The case joins more than 2,000 similar Shower-to-Shower lawsuits and Johnson's Baby Powder lawsuits filed nationwide by women and their families, each raising nearly identical allegations that consumers were not adequately warned about the link between daily talcum powder use and cancer.
The lawsuit indicates that Anderson, born in 1942, began using Shower to Shower on her perineal areas in the 1970s, following advertisements and instructions by Johnson & Johnson.
"There was never any indication, on the Product's packaging or otherwise, that this normal use could and would cause Ms. Anderson to develop ovarian cancer," the lawsuit states. "Ms Anderson was diagnosed with ovarian cancer in or around November of 2011, and underwent surgery and subsequent treatment, including chemotherapy and radiation."
However, the efforts were not enough to save her life, according to the lawsuit, and she died on October 20, 2014.
So far this year, at least two talcum powder ovarian cancer cases have gone to trial in St. Louis over Johnson & Johnson's failure to warn about the cancer risk with their popular products. Each of those trials resulted in a multi-million dollar damage award due to the failure to provide appropriate talcum powder warnings for women.
Earlier this month, a panel of federal judges ordered all talcum powder lawsuits filed at the federal level be consolidated before one judge for pretrial proceedings in New Jersey, where District Judge Freda Wolfson will preside over coordinated discovery and bellwether trials.
As talcum powder cancer lawyers continue to review and file cases over the coming months and years, it is ultimately expected the number of complaints pending nationwide will continue to grow.
If ovarian cancer settlements are not reached by Johnson & Johnson following bellwether trials or the coordinated proceedings in the federal MDL, it is possible that large numbers of cases may be remanded back to U.S. District Courts nationwide for individual trial dates.
"*" indicates required fields