Side Effects of Talcum Powder May Cause 10% of All Ovarian Cancer Cases, Lawsuit Warns
July 22, 2016
By: Irvin Jackson
According to allegations raised in a product liability lawsuit recently filed against Johnson & Johnson, the risk of ovarian cancer from talcum powder may much more dangerous than most women recognize, suggesting that the common practice of using the powders for feminine hygiene purposes may be responsible for as many as one out of every 10 cases of ovarian cancer.
In a complaint (PDF) filed in the U.S. District Court for the Western District of Missouri on July 21, Dolores Cerrone-Kennedy indicates that she developed ovarian cancer after using Johnson's Baby Powder and Shower-to-Shower multiple times daily around her genital area throughout her life.
While talcum powder is most commonly associated with use to help prevent diaper rash and maintain smooth skin, Johnson & Johnson has promoted their Baby Powder and Shower-to-Shower products for decades as a general body powder among adult women, who were encouraged to use talcum powder after every shower and place it in their underwear to maintain "personal freshness."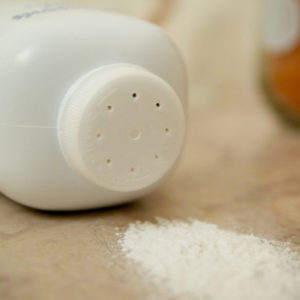 Cerrone-Kennedy indicates that Johnson & Johnson knew about the link between talcum powder and ovarian cancer, yet withheld information and warnings from women.
"At least 20 scientific studies have found increased rates of ovarian cancer among women using talc for hygienic purposes," the lawsuit states. "One study identified the use of talc-based products in the perineal area as the cause of approximately 10% of ovarian cancer cases in the United States."
The case was filed against Johnson & Johnson, Imerys Talc America, Inc., the Personal Care Products Council Foundation, and Fragrance Association, joining a growing number of Baby Powder lawsuits and Shower to Shower lawsuits filed by women nationwide.
So far this year, at least two talcum powder ovarian cancer lawsuits have gone to trial in state court, with each case resulting in a multi-million dollar damage award after evidence was presented about Johnson & Johnson's failure to provide appropriate talcum powder warnings for women.
Evidence presented at the recent trials included company documents that suggested Johnson & Johnson was aware of the potential link between talcum powder and ovarian cancer since the 1970s. However, even as recently as 1992, some documents indicate that the company specifically targeted sales towards women who were high users of talcum powder, without ever warning them of the possible cancer risks.
Cerrone-Kennedy presents claims for failure to warn, misrepresentation, negligence, strict liability, breach of express and implied warranties, as well as other claims. In addition, she is joined by her husband in a claim for loss of consortium, as a result of the impact the ovarian cancer has had on her marital relationship.
"Although currently in remission, Ms. Cerrone-Kennedy's doctors have told her that it has an 80% reoccurrence rate with a 50% chance of survival. It has been conveyed to her that the cancer will come back in full force; it is only a matter of when," the lawsuit states. "The cancer has decimated her body and horrifically altered her mind. Ms. Cerrone- Kennedy not only suffers from incurable ovarian cancer, but the strong medications have led to a host of additional physical ailments. Ms. Cerrone-Kennedy now also suffers from tremors, neuropathy, osteoarthritis, chemo brain, and a loss of her short term memory."
In February 2016, a jury awarded $72 million in damages to the family of Jackie Fox, a woman who died from ovarian cancer following use of talcum powder. Months later, another jury awarded $55 million to Gloria Ristesund, who also claimed she developed ovarian cancer following use of the Johnson & Johnson products.
While the outcomes of these early trials are not binding on the thousands of other claims being pursued by women nationwide, they do highlight the extent of liability Johnson & Johnson and other defendants may face if they fail to reach talcum powder settlements to resolve individual claims brought over the failure to warn about the ovarian cancer risk.
Clara

July 30, 2016 at 7:00 pm

Thanks to this NEVER had children while all of my women folk in my family enjoy their children and what about our babies who we sooth them with baby powders are they in danger ?
"*" indicates required fields