Side Effects of Tylenol, Acetaminophen May Cause SJS, Skin Problems
August 02, 2013
By: Irvin Jackson
Federal health regulators are warning about the risk of serious and potentially life-threatening rashes and side effects of acetaminophen, the active ingredient in Tylenol and a number of other commonly used pain medications.  
In a drug safety communication issued on Thursday, the FDA notified health care professionals and the public about the risk of Stevens-Johnson Syndrome (SJS), or the even more deadly toxic epidermal necrolysis (TEN), which may be caused by side effects of Tylenol and other acetaminophen products. The agency also linked the medications to a potential risk of acute generalized exanthematous pustulosis (AGEP).
The FDA will require a new warning be added to all drugs containing acetaminophen, but the agency warns that, in part due to its wide-spread use, it is difficult to determine how frequent these reactions occur.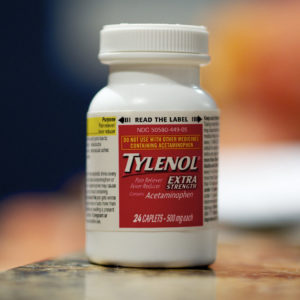 Severe skin reactions have been been reported after the first time a consumer uses acetaminophen, as well as at other times the medication is taken, meaning that someone could experience skin problems suddenly, even if they have previously taken Tylenol or another drug containing acetaminophen.
Stevens-Johnson Syndrome (SJS) is a serious and life-threatening reaction caused by several different medications, which involves burns to the skin that develop from the inside out, producing blisters, severe rashes, and potentially causing the skin to separate from the body. When the skin lesions affect more than 30% of the body, the condition is typically referred to as Toxic Epidermal Necrolysis (TEN).
Treatment for SJS and TEN usually require inpatient care at a hospital Burn Unit, and it can result in permanent blindness, organ failure and other serious problems.
AGEP is an outbreak of pustules on the skin, commonly referred to as a rash. It typically last about five days and usually end shortly after the victim stops taking the drug that caused the outbreak. AGEP is fatal in about 5% of all cases.
"Anyone who develops a skin rash or reaction while using acetaminophen or any other pain reliever/fever reducer should stop the drug and seek medical attention right away," the FDA warns. "Anyone who has experienced a serious skin reaction with acetaminophen should not take the drug again and should contact their health care professional to discuss alternative pain relievers/fever reducers."
The FDA discovered the link between acetaminophen and skin problems through an analysis of medical literature and the FDA's Adverse Event Reporting System (FAERS). Data from FAERS reveals 107 cases of severe skin reactions between 1969 and 2012, including 67 hospitalizations and 12 deaths. However, it is often assumed that adverse events are underreported to the FDA, particularly in cases where the drug is not believed to be linked to the side effect. By some estimates, only 1% to 10% of actual adverse events are ever reported to FAERS.
Even with much higher numbers, the FDA still believes that these skin reactions are extremely rare and that the benefits of acetaminophen outweigh the risks.
Acetaminophen Liver Damage
The new warnings come as a growing number of users are pursuing Tylenol liver damage lawsuits, alleging that the manufacturer of the widely used painkiller has attempted to minimize the risk of known problems with the medication for decades, with many of the complaints suggesting that the FDA would never have approved acetaminophen if it were first introduced today.
The FDA has previously identified acetaminophen as the leading cause of liver injury in the United States. It has been suggested that more than 50,000 emergency room visits each year are caused by acetaminophen, including 25,000 hospitalizations and 450 deaths.
In recent years, there has been an increased effort to bring information about the risk of overdosing on acetaminophen to the public's attention and to reduce the number of liver failure cases linked to the popular analgesic, which is also found in other pain killers and a number of cold medications.
Johnson & Johnson lowered the maximum recommended dosage on Tylenol and other acetaminophen-based products from 4,000 mg per day to 3,000 mg per day in 2011, after the FDA announced new limits on acetaminophen levels in prescription painkillers like Vicodin and Percocet.
In April, the U.S. Judicial Panel on Multidistrict Litigation consolidated all product liability lawsuits involving allegations that Johnson & Johnson failed to adequately warn about the risk of liver problems from Tylenol, centralizing cases brought nationwide before U.S. District Judge Lawrence F. Stengel in the Eastern District of Pennsylvania.
All of the complaints involve similar claims that Johnson & Johnson built an image for their blockbuster medication as safe and effective by withholding important information about the link between Tylenol and liver problems.
Judith

July 21, 2017 at 12:10 pm

I have known for over TWENTY Years how Dangerous Acetaminophen is. NPR had a program about 15 years ago, featuring a Dr. from University in San Antonio who lamented that 4000 iu per day was Far Too High for a "recommended dose"! In fact, it was actually HALF of that, and even then....it was toxic! My husband of 22 years was in a car accident back in 1995, he was prescribed Darvocet for the pain[Show More]I have known for over TWENTY Years how Dangerous Acetaminophen is. NPR had a program about 15 years ago, featuring a Dr. from University in San Antonio who lamented that 4000 iu per day was Far Too High for a "recommended dose"! In fact, it was actually HALF of that, and even then....it was toxic! My husband of 22 years was in a car accident back in 1995, he was prescribed Darvocet for the pain. In less than 8 years, He was DEAD from Liver Failure at the age of 45!

roy

September 29, 2013 at 10:14 pm

I have taken Tylenol #3 for over a year , also I was taking a baby aspirin with it on doctors orders. I had developed a thinning of the skin and bruising plus easily bleeding at the scratch point. Blood will some times just spread under the skin at the least of bumps. Since I quit taking the aspirin ( low dose) some 7 months ago the condition persisted. I read this article and was concerned that [Show More]I have taken Tylenol #3 for over a year , also I was taking a baby aspirin with it on doctors orders. I had developed a thinning of the skin and bruising plus easily bleeding at the scratch point. Blood will some times just spread under the skin at the least of bumps. Since I quit taking the aspirin ( low dose) some 7 months ago the condition persisted. I read this article and was concerned that possibly the tylenol could be effecting this condition......Do you have any ideas. I am a 68 yr. old male . I can not stress enough hoe easily my fore arms will tear at the slightest bumping something. Thank you , rc
"*" indicates required fields