Similac Alimentum Recall Issued Over Packaging Defect
September 19, 2022
By: Irvin Jackson
Following months of manufacturing problems which have plagued Abbott infant formula products, a recall has been issued for hundreds of bottles of Similac Alimentum, due to a packaging defect that that could cause health risks for babies.
The FDA announced the Similac Alimentum recall on September 7, as part of an enforcement report that categorized the action as Class II recall, suggesting that use of the products may cause temporary or medically reversible adverse health consequences.
Neither Abbott nor the FDA has gone into detail about the reasons for the infant formula recall, except to say that it was caused by a packaging defect. No injuries or infant illnesses have been reported in connection with the recalled Similac Alimentum bottles.
The recall impacts 120 cases of Similac Alimentum packaged in 32 fluid ounce plastic bottles, with six bottles per case. The recalled infant formula has a Batch/Lot number of 41760RH00, and a product number of 57512. They have a Best By date of 06/01/23. They were sold in Michigan and Ohio.
Similac Alimentum Manufacturing Problems
The recall is the latest in a string of problems that have impacted Abbott's Similac Alimentum and similar infant formula products sold over the past year, which have been linked to hundreds of reports involving severe infections and other health consequences from previously recalled products.
In February 2022, Abbott Laboratories announced a much larger Similac formula recall, after FDA inspections confirmed the presence of bacteria throughout the Michigan facility, and identified widespread manufacturing problems. Production was shut down for several months at the facility, which contributed to infant formula shortages this year in the U.S.
Since the recall, information has emerged that shows Abbott knew about the Similac contamination problems since at least September 2021, when the Minnesota Department of Health began investigating a case involving an infected infant. However, the formula continued to be distributed, remained on store shelves and families nationwide continued to feed the contaminated products to infants.
Similac Alimentum Lawsuit
Was you baby hospitalized or diagnosed with an infection following use of recalled Similac Alimentum?
CONTACT A LAWYER
Following the recall, Abbott was forced to close the Sturgis, Michigan plant due to severe safety problems, shutting down production at one of the major sources of infant formula in the United States, which contributed to a nationwide shortage of infant formula earlier this year.
Abbott now faces dozens of Similac Alimentum recall lawsuits brought by families, alleging that infants were hospitalized or died due to salmonella and other infections after being fed the tainted formula, and the company's stock price has fallen sharply, resulting in losses for investors.
Abbott Lawsuits Over NEC Caused by Similac
Abbott also faces similar allegations of placing profits before the safety of babies in several hundred NEC lawsuits currently being pursued by families of premature infants who developed a devastating and often fatal gastrointestinal condition after being fed the company's cow's milk products in the hospital or NICU.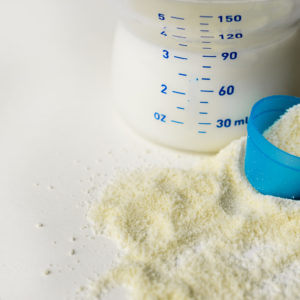 That litigation involves allegations that Abbott has failed to warn about the risk that premature infants may develop necrotizing enterocolitis (NEC), which causes a destruction of the intestines, often resulting in death or life-long disabilities after emergency surgery removes portions of the gut.
Families allege Abbott not only withheld important warnings and information from consumers and the medical communities about the NEC risk for premature infants, but indicates that the company specifically marketed versions of their formula for use by preemies, and made misleading marketing statements which led parents to believe cow milk-based infant formula is equally as safe as breast milk, which studies have shown is not the case.
In addition to Similac NEC lawsuits, similar allegations have also been raised in Enfamil NEC lawsuits filed against Mead Johnson.
Image Credit: Jonathan Weiss / Shutterstock.com
"*" indicates required fields