Infant Formula Shortage Worsens in Wake of Similac Recalls
May 10, 2022
By: Irvin Jackson
Retailers are limiting the amount of infant formula parents can buy, as the nationwide shortage continues to worsen in the wake of a Similac recall caused by contamination, combined with supply chain problems resulting from the COVID-19 pandemic.
Costco, Walgreens, CVS and other retailers have all announced limits on the number of baby formula products parents can buy. Some limits are in stores, while others, like limits put in place by Target, are online only. However, as the infant formula shortage continues, those restrictions may grow.
Concerns about widespread infant formula shortages began to emerge late last year, leaving many store shelves empty due to labor shortages, a lack of ingredients and omicron outbreaks. However, problems were worsened and complicated when Abbott Laboratories had to remove all versions of Similac, Similac Alimentum and EleCare formula from the market, after manufacturing problems caused the powdered formula to become contaminated with Cronobacter and Salmonella bacteria.
Currently, it is estimated that about 40% of formula products are out of stock nationwide. Some states have been hit worse than others, with more than 50% of infant formula products absent from shelves in Missouri, Texas and Tennessee.
The American Academy of Pediatrics has a webpage devoted to giving parents tips on what to do if they are affected by the infant formula shortage. The organization strongly recommends against trying to make your own formula at home or attempting to "water down" existing formula to make it last longer.
Parents can also contact their local Special Supplemental Nutrition Program for Women, Infants, and Children (WIC) office for more assistance.
Similac Recall Strains Infant Formula Supplies
Abbott Laboratories first announced the massive Similac, Alimentum and Elecare infant formula recall on February 17, following nationwide reports of illnesses and deaths among babies fed versions of the powdered formula manufactured at the same plant in Michigan.
Within days, reports began to surface that suggested the company knew about the Similac contamination problems at its facility since at least September 2021, when the Minnesota Department of Health began investigating a case involving an infant infected with Cronobacter. Two U.S. Senators have already launched an inquiry, asking why Abbott delayed issuing a recall or warning parents, and a number of Similac recall lawsuits have already been filed by parents of babies who suffered injuries.
SIMILAC RECALL LAWSUIT
Was your baby sickened after being fed Similac, Alimentum or EleCare formula?
CONTACT A LAWYER
At least two infants have reportedly died in connection to the contaminated formula.
Last month Abbott issued a statement which attempted to alleviate parents' fears about the supply chain issues. The company says it is working with the FDA to get the Sturgis facility up and running again, and that it is increasing production at other plants located in Columbus, Ohio and Cootehill, Ireland. Columbus is Abbott's U.S. nutrition division headquarters.
"We are dedicated to doing everything possible to ensure parents and caregivers have what they need to feed their babies," the statement reads. "And we're always focused on what we can do to continue to serve our customers. We will continue to work closely with the FDA to implement corrective actions at the Michigan facility."
In late April, the FDA announced that it will not object to Abbott releasing products to individuals who have urgent need for some of its specialized infant formulas. These products would include those designed to treat medical conditions, such as specialty and metabolic formulas that address life-threatening nutritional risks. However, for the company's more mainstream products, the FDA is requiring Abbott to do "enhanced testing" which will further slow down production.
Similac & Enfamil Baby Formula Health Risks
In addition to concerns about the shortages and recent problems with contamination, manufacturers are also facing a growing number of Similac lawsuits and Enfamil lawsuits now being pursued by families of premature babies who developed necrotizing enterocolitis (NEC) after being fed the cow's milk products while still in the NICU.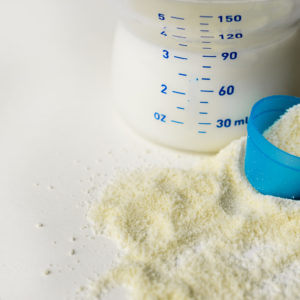 Necrotizing enterocolitis (NEC) is a serious health condition that primarily impacts preterm infants, causing intestinal tissues to become inflamed and die. If left untreated, it can cause dangerous perforations in the intestines, which allow bacteria to leak into the abdomen or infiltrate the bloodstream. This can lead to life-threatening infections, narrowing of the intestines, short bowel syndrome, developmental delays and a failure to thrive.
A number of studies published over the past three decades have highlighted the link between NEC and cow's milk formula like Similac and Enfamil, yet manufacturers have continued to market and promote versions of their products specifically for use by premature infants.
According to allegations raised in the baby formula NEC lawsuits, many of those infants may have avoided the condition if the manufacturers hadn't provided false and misleading information to parents and the medical community, which diminished the importance of breast feeding or using human donor milk.
"*" indicates required fields