Similac Caused Salmonella, Cronobacter Infections for Months After Problems Were First Noticed: Reports
March 04, 2022
By: Irvin Jackson
Abbott Laboratories is facing increasing scrutiny from federal regulators, lawmakers and parents, as new information is emerging that Similac caused Salmonalla, Cronobacter and other infections for infants months before the company recalled versions of its powdered baby formula.
Although reports suggest that Abbott learned about a Cronobacter sakazakii infection linked to Similac powder in September 2021, the company did not announce a baby formula recall until February 17, indicating that certain lots of Similac, Alimentum and EleCare manufactured at a Michigan facility may be contaminated.
Following the announcement, reports have been flooding in from parents of babies who have been diagnosed with Salmonella or other infections after various different versions of powdered formula sold by Abbott were used, often resulting in hospitalization or prolonged illnesses.
Less than two weeks later after the initial recall, on February 28, 2022, Abbott expanded the Similac recall after learning about another infant's death following use of a product that was not previously included in the recall. This has left many families questioning whether the full scope of the problems have been disclosed, and how long the company may have been aware of babies developing Similac Salmonella and Cronobacter infections.
Similac Salmonella Lawsuit
Was your child diagnosed with an infection or illness caused by Similac, Alimentum or Elecare?
CONTACT A LAWYER
To date, Abbott has only publicly disclosed knowledge of five illnesses, including two deaths after babies were fed the contaminated formula. However, hundreds of families nationwide are now contacting lawyers and filing lawsuits alleging Similac caused Salmonella infections or other illnesses for their children over the past few years.
Over the past few weeks, it has been revealed that the manufacturer was aware of illnesses linked to the infant formula in September 2021, after a case was detected by officials in the Minnesota Department of Health, involving an infant sickened by exposure to Cronobacter sakazakii.
It would be another four months before Abbott Laboratories announced a recall, which has now sparked an investigation by the FDA, the U.S. Centers for Disease Control and Prevention (CDC), and two prominent U.S. Senators into why Abbott delayed announcing the recall for so long, putting countless infants at risk of infection, illness and death.
"From September 16, 2021, to January 5, 2022, CDC received reports of three Cronobacter cases in infants that were later found to be linked to FDA's ongoing investigation," the CDC's investigation page states. "On February 16, 2022, CDC asked clinicians and state and local health departments to provide information on other cases of Cronobacter infection associated with infant formula from November 2020 through the present. Since then, CDC has identified one additional reported case of Cronobacter infection in an infant who consumed formula produced at this facility."
On February 24, U.S. Senators Patty Murray, chair of the U.S. Senate Committee on Health, Education, Labor and Pensions, and Robert Casey, Jr., chair of the Subcommittee on Children and Families, sent a letter to Abbott requesting the company turn over numerous documents and internal memos about what it knew about the contamination, when it knew it, and what actions it took, as well as information about how the Sturgis, Michigan, facility which produced the recalled baby formula products operates.
Similac Formula NEC Concerns
The added scrutiny comes at a time when Abbott already faces a rapidly growing number of necrotizing enterocolitis (NEC) lawsuits brought by families of premature infants diagnosed with the devastating gastrointestinal disorder after being fed the company's cow milk formula in the NICU.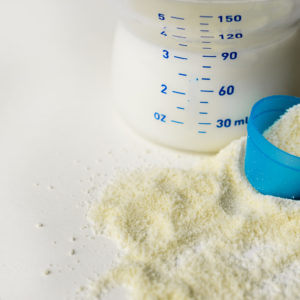 The families allege that Abbott knew for years about the risks Similac posed for premature infants, yet continued to market and promote the products for use among preemies and low-birth weight infants, causing severe intestinal perforations, infections and the need for emergency surgery or infant deaths.
Later this month, the U.S. Judicial Panel on Multidistrict Litigation (JPML) is expected to hear oral arguments on a motion filed by Abbott to centralize and consolidate all Similac NEC lawsuits and Enfamil NEC lawsuits before one federal judge, for coordinated discovery and pretrial proceedings.
However, since that motion was first filed, dozens of Similac recall lawsuits have now been against the company, alleging that it knew Similac was causing Salmonella and other injuries, yet failed to warn families.
"*" indicates required fields