Similac Formula Recall Issued After Salmonella, Cronobacter Infections
February 18, 2022
By: Russell Maas
As Abbott Laboratories faces a growing number of NEC formula lawsuits brought by families of premature babies who developed a devastating gastrointestinal injuries after being fed Similac, new concerns over contamination have resulted in a baby formula recall following reports of salmonella and cronobacter infections, which have resulted in at least one death.
The Similac formula recall was announced by Abbott on February 17, indicating the company is investigating at least four serious infections that may be linked to Similac, Alimentum, or EleCare powdered infant formulas produced at the same plant, which may have been contaminated with Cronobacter sakazakiiis or Salmonella Newport during the manufacturing process.
Disease-causing bacteria such as Salmonella and Cronobacter can be extremely dangerous when consumed by infants, especially for low birth weight and preterm infants. While rare, infant Cronobacter sakazakiiis infections may cause sepsis or make the linings surrounding the brain and spinal cord swell, known as meningitis. Such infections in infants typically present symptoms of fever, bowel damage, temperature change and poor feeding which can result in failure to thrive, causing them to be smaller or shorter than other children the same age
SIMILAC FORMULA RECALL LAWSUIT
Did your baby experience problems from Similac formula?
CONTACT A LAWYER
Abbott indicates that it identified the presence of Cronobacter sakazakii and other pathogens during routine testing at the Sturgis, Michigan manufacturing plant, which coincide with the timing of the three injuries and death reported by consumers whose child consumed the powdered infant formula products.
The baby formula formula recall includes all Similac, Alimentum and EleCare powdered formula manufactured in the Sturgis, Michigan facility containing an expiration date of April 1, 2022, or later. The recalled formula containers have a multidigit number on the bottom of the can starting with the first two digits 22 through 37, contains K8, SH, or Z2 and with an expiration date of April 1, 2022, or after.
While Abbott announced their internal testing at the Michigan facility only found Cronobacter sakazakii in non-product contact areas, the FDA is advising consumers to avoid the Similac formula and other brands manufactured at the Michigan plant altogether.
Concomitantly with the manufacturer recall, the U.S. Food and Drug Administration (FDA) issued a baby formula warning instructing parents and guardians to stop using the recalled Similac, Alimentum and EleCare powdered infant formula products immediately while the agency pursues an investigation into the three injuries and death linked to possibly contaminated Abbott formulas.
The FDA announced it has initiated an onsite inspection at the facility and has recorded several positive Cronobacter sakazakii results from environmental samples along with several adverse inspectional observations by investigators.
FDA Deputy Commissioner for Food Policy and Response, Frank Yiannas, stated in the release "As this is a product used as the sole source of nutrition for many of our nation's newborns and infants, the FDA is deeply concerned about these reports of bacterial infections,"
Abbott has released a series of baby formula recall resources for customers to identify whether their products are impacted, including a powdered formula recall FAQ's section and a link to similacrecall.com to check their products lots number. Customers may also contact Abbott customer service at 1-800-986-8540.
Legal Problems for Abbott Linked to Similac Formula NEC Lawsuits
The reports of contamination come as Abbott Laboratories is facing a rising number of Similac formula lawsuits brought throughout the federal court system, alleging that the company has withheld information about the safety of the cow's milk product for premature infants, which has been found to greatly increase the risk of necrotizing enterocolitis (NEC).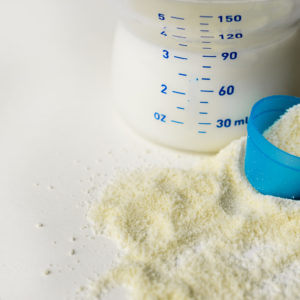 A number of studies have highlighted a link between baby formula and NEC for preterm infants, resulting in gastrointestinal perforations that often develop while the infant is still in the NICU, allowing bacteria to leak through and cause abdominal infections and intestinal tissue to die off. Common symptoms of NEC include swollen, red or tender belly, difficulty feeding, constipation, dark or bloody stools, body temperature changes, green vomit,  apnea, bradycardia (slowed heart rate) and hypotension (low blood pressure), among others. If not fatal, often times NEC survivors experience long term side effects from surgery to remove dead bowels, resulting in a lifetime of bowel complications.
According to allegations raised in the litigation, Abbott Laboratories withheld warnings and information from parents and medical providers for decades, placing desire for profit before consumer safety. Similar claims are also being pursued against Mead Johnson in Enfamil NEC lawsuits brought by families of babies who received this competing cow's milk formula instead of breast milk.
Given common questions of fact and law raised in complaints filed in recent weeks throughout the federal court system, Abbott Laboratories filed a motion to create a Similac MDL, which would centralize the litigation before one judge for coordinated discovery and pretrial proceedings. The U.S. Judicial Panel on Multidistrict Litigation (JPML) is expected to schedule oral arguments on motion during an upcoming hearing session next month.
"*" indicates required fields