Similac and Enfamil Baby Formula Shortages Create Infant Feeding Challenges
February 01, 2022
By: Russell Maas
Many parents are becoming concerned over ever-increasing baby formula shortages, which have left store shelves empty due to a combination of supply chain issues, such as labor shortages, lack of ingredients, omicron outbreaks and other factors.
The Infant Nutrition Council of America (INCA) publicly acknowledged the baby formula shortages across the U.S. this week, stating government agencies are working with formula manufacturers to ensure parents are able to feed their infants and young babies amid a sudden drop in inventory.
The association of manufacturers of infant formulas stated that efforts are being made to increase baby formula production to counter a shortage of supply and an increase in baby formula demand among several regions of the country.
The statement was released after parents across the nation began voicing concerns over infant feeding difficulties caused by a shortages of Enfamil, Similac and other popular baby formula brands, leaving new mothers looking for safe feeding alternatives for infants.
"Members of the Infant Nutrition Council of America want to reassure parents and caregivers that there is infant formula available to meet their needs," INCA stated. "Manufacturers have increased production and are working with retailers and government agencies to help ensure availability and continued access to infant formula."
According to a report by CBS News last week, while many infant formula manufacturers typically kept a national in-stock rate of about 95%, inventory levels have fallen to as low as 75% amid the COVID-19 pandemic, with powdered formula shortages being more pronounced in many populated cities.
The maker of Enfamil baby formula, Mead Johnson, told CBS in the report that industry sales have skyrocketed in the last several weeks, and they are shipping products to stores as fast as possible. However, reports across the U.S. indicate many parents are facing infant feeding difficulties from Similac and Enfamil shortages at major retailers such as Walgreens, Amazon, CVS, and Target, which have been widely unavailable in stores in some areas.
Sources have blamed the baby formula shortages on a variety of factors, including a scarcity of formula ingredients as well as the supply chain disruptions caused by the ongoing Omicron variant, which has resulted in staffing shortages at manufacturing plants, truck drivers to distribute the products and in-store workers unable to stock shelves fast enough.
INCA is advising parents to "keep a 10-day to two-week supply of infant formula on hand and avoid unnecessary stockpiling. In order to help ensure all parents and caregivers are able to obtain the formula they need."
While it is unknown exactly where and how long shortages of infant formula could last, INCA has provided instructions for parents to obtain emergency sources of infant formula on their website, recommending parents contact Feeding America by dialing 2-1-1, or to contact your baby's doctor.
For parents and caregivers looking for baby formula alternatives, the U.S. Food and Drug Administration (FDA) advises to never make or feed homemade baby formula to infants, warning that the agency has become aware of babies hospitalized from harmful formula that was made at home in recent years.
Health officials warn homemade baby formulas can cause serious and potentially life threatening side effects including hypocalcemia (low calcium), contamination and absence of, or inadequate amounts of, critical nutrients that may cause severe nutritional imbalances.
Similac & Enfamil Baby Formula Health Risks
The shortage comes after health experts have urged parents to move away from the use of cow's milk-based formula after birth, particularly among preterm infants, which may face an increased risk of developing a severe intestinal disorder known as necrotizing enterocolitis (NEC), which can result in lifelong health complications and death.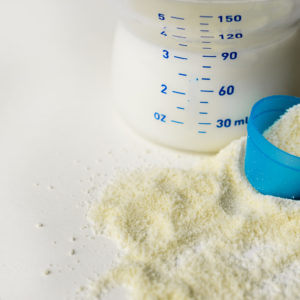 Necrotizing enterocolitis (NEC) caused by baby formula is a serious health condition where apreterm infant's intestinal tissues becomes inflamed. If left untreated, it can cause that tissue to die, resulting in perforations in the intestines, which allow bacteria to leak into the abdomen or infiltrate the bloodstream. This can lead to life-threatening infections, narrowing of the intestines, short bowel syndrome, developmental delays and a failure to thrive.
A number of studies published over the past three decades have highlighted the link between NEC and Similac, Enfamil or other cow's milk formula fed to premature infants. However, the manufacturers have been accused of giving false and misleading information to parents, hospitals and medical providers about the risks associated with baby formula and the benefits of breast milk.
As a result, a growing number of Similac NEC lawsuits and Enfamil NEC lawsuits are now being pursued by families of premature infants who have suffered from NEC over the past few decades, allege that the manufacturers have consistently failed to warn the medical community and consumers that not only are their products not as effective as human breast milk, but that it may in fact increase the risk of babies contracting NEC, and increasing their risk of death.
Given similar questions of fact and law raised in complaints filed in U.S. District Courts nationwide, it is widely expected that a request will be filed in the coming months to establish consolidated pretrial proceedings in the federal court system, where the cases will be coordinated before one judge in a manner similar to a baby formula class action lawsuit.
"*" indicates required fields