Similac and Enfamil Cow's Milk Formula Caused Preterm Infant To Develop NEC, Lawsuit Claims
March 03, 2023
By: Irvin Jackson
The mother of a prematurely born infant says Similac and Enfamil cow's milk formula caused necrotizing enterocolitis (NEC) injuries for her child, which left him with lifelong disabilities before he even had the chance to leave the hospital.
The complaint (PDF) was filed last week by Stephanie Silvers in the U.S. District Court for the Northern District of Illinois, presenting claims for her child, identified as A.S., and on behalf of herself as the child's mother.
Silvers filed the lawsuit against Similac and Enfamil manufacturers Abbott Laboratories and Mead Johnson, respectively, alleging that each of the companies have marketed cow's milk-based formula products specifically for preemie newborns, despite a growing body of medical research that the products may cause vulnerable infants to develop NEC.
Shortly following birth, A.S. developed NEC, which is a devastating ailment that causes portions of the intestines to become inflamed or die. This often results in the need for emergency surgery while the preterm newborn is still in the NICU us, and can result in death or long-term complications for the remainder of the child's life.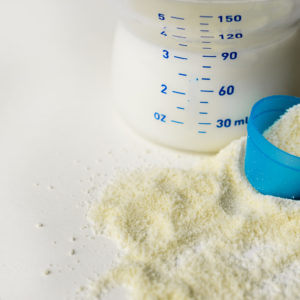 According to Silvers' complaint, her child was born prematurely in September 2020 in Missouri, and she was fed cow's milk formula while still in the hosptial.
As a result of the NEC diagnosis, the child suffering severe complications and injuries, which continue to this day and have led to severe long-term health consequences, the lawsuit states.
Manufacturers Ignored Evidence of Cow's Milk Formula NEC Risks
The lawsuit points to a number of studies published over the past few decades, which have established that cow's milk formula like Similac and Enfamil cause NEC at a substantially higher rates than is seen among premature babies fed breast milk or donor milk alone.
Although Abbott and Mead Johnson knew for years that NEC is substantially more likely among premature babies fed the formula instead of breast milk, Silvers and other families pursuing a growing number of Similac NEC lawsuits and Enfamil NEC lawsuits nationwide say the companies intentionally misled parents and the medical community, and enticed them to take even more risks with infant lives through deceptive marketing practices, free samples, and advertising campaigns designed to shame parents into not questioning the safety of their products.
"Defendants promote the use of their preterm infant Cow's Milk Products to parents, physicians, hospitals, and medical providers as safe products that are specifically needed by preterm infants for adequate growth," Silvers' lawsuit states. "Despite the knowledge of the significant health risks posed to preterm infants ingesting the Cow's Milk Products, including the significant risk of NEC and death, Defendants did not warn parents or medical providers of the risk of NEC, nor did Defendants provide any instructions or guidance on how to properly use its Cow's Milk Products so as to lower the risk or avoid NEC or death."
March 2023 Infant Formula Lawsuit Update
More than 200 cow's milk formula NEC lawsuits have been centralized before U.S. District Judge Rebecca R. Pallmeyer in the Northern District of Illinois, for coordinated discovery and pretrial proceedings.
Each of the NEC lawsuits raise similar allegations, indicating that manufacturers of cow's milk-based infant formula and human milk fortifier specifically marketing products for use by preterm newborns, without providing warnings to hospitals, doctors or families. However, as lawyers continue to investigate and file claims in the coming year, it is ultimately expected that several thousand lawsuits will be brought by families of infants diagnosed with NEC.
In November 2022, a group of 12 cases were selected for a NEC lawsuit bellwether pool, which will go through case specific discovery and prepared for a series of early trial dates expected to begin in 2024.
Although the outcome of these early bellwether trials will not have any binding impact on other claims, they are expected to have a substantial impact on any baby formula NEC settlements the manufacturers may offer to avoid the need for each individual case to be remanded back to U.S. District Courts nationwide for separate trial dates in the future.
"*" indicates required fields