JPML to Hear Oral Arguments Today About Where to Centralize NEC Lawsuits Over Similac and Enfamil Formula
March 31, 2022
By: Irvin Jackson
A panel of federal judges heard oral arguments today about where all necrotizing enterocolitis (NEC) lawsuits filed against the makers of Similac and Enfamil infant formula products should be centralized for pretrial proceedings.
Similac and Enfamil are two popular brands of cows milk-based infant formula, which have been widely used in recent years by doctors and hospitals for premature babies in the NICU. However, increasing research has found that the cow's milk products greatly increase the risk of preemies developing NEC; a devastating intestinal disorder that is often fatal or results in the need for emergency surgery.
Dozens of families are now pursuing baby formula NEC lawsuits against Abbott Laboratories and Mead Johnson, alleging that for years they have withheld warnings and information from parents and medical providers about the risks associated with their products. Many of the cases name both manufacturers as defendants, indicating that newborns were fed both Similac and Enfamil in the NICU before developing NEC.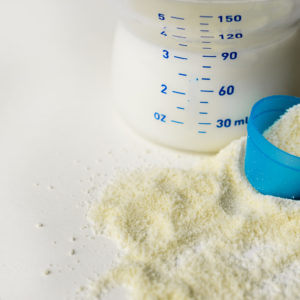 In January, Abbott Laboratories filed a motion to create a Similac MDL for all claims brought over their products by families of preterm babies who developed NEC, indicating that the cases should be consolidated U.S. District Judge Stefan R. Underhill in the District of Connecticut for coordinated discovery and pretrial proceedings.
A few weeks later, Mead Johnson called for all Similac and Enfamil lawsuits to be centralized before the same judge, since many cases involve infants fed both products, and the claims all involve common questions of scientific fact and law.
Dozens of plaintiffs have since filed responses in support of the motion, but proposing a variety of other venues and judges that may be more appropriate for the coordinated management of the growing litigation.
As recently as March 22, more plaintiffs Klaire and Joshua Osmun filed a motion in support of the transfer (PDF), indicating that their preterm infant child, identified only by the initials "N.O." developed NEC after being fed Enfamil and Similac. However, the Osmuns argued that the litigation should be centralized in either the Eastern District of Louisiana or the Western District of Missouri.
"These actions, as well as the several hundred likely future filings contain the same basic facts, the same theories of liability (including negligence and strict liability with respect to the defective design and inadequate labeling of Defendants' cow's milk-based preterm infant products), and the same Defendants," the latest plaintiffs' motion states. "Consolidation in one federal district would conserve the resources of the judiciary, avoid duplication of discovery, and prevent inconsistent or repetitive rulings."
It is common for the U.S. JPML to establish coordianted pretrial proceedings in complex product liability lawsuits, where large numbers of cases are pending before different judges that involve similar injuries caused by the same product. However, it is up to the panel of judges to determine which U.S. District Court is the most convenient forum to manage the pretrial litigation.
Various competing proposals were presented during oral arguments today, at the Hale Boggs Federal Building in New Orleans, and it is expected that a written decision will be issued in the coming weeks.
If a Similac and Enfamil MDL is established, cases filed in U.S. District Courts nationwide will be transferred to one court for management, and series of early "bellwether" trials designed to help gauge how juries are likely to respond to certain evidence that will be repeated throughout the litigation. However, if NEC  settlements or another resolution for is not reached following the MDL proceedings, each individual Similac and Enfamil case may later be returned to the U.S. District Court where it was originally filed for a separate trial in the future.
"*" indicates required fields