FDA Declares Similac Probiotic Tri-Blend Infant Formula an Unapproved Drug Product in Abbott Warning Letter
October 26, 2023
By: Irvin Jackson
Abbott Laboratories received a warning letter this week from federal regulators, saying that its Similac Probiotic Tri-Blend infant formula product is being marketed in a way that changes its use from a dietary supplement to an unapproved drug product.
The U.S. Food and Drug Administration (FDA) sent the warning letter (PDF) to the infant formula manufacturer on October 25, indicating that Similac Probiotic Tri-Blend contains two ingredients, Bifidobacterium infantitis and Streptococcus thermophilus, which may not be safe for infants.
According to the agency, B. infantitis is an unsafe food additive. The FDA also warned that S. thermophilus is a new, unproven, dietary ingredient "for which there is inadequate information to provide reasonable assurance that such an ingredient does not present a significant or unreasonable risk of illness or injury, when used in preterm infants."
The use of these ingredients, and the way Abbott has marketed the infant formula makes it Similac Probiotic Tri-Blend an unadulterated drug product, the FDA determined.
The agency indicates Abbott's sales representatives gave doctors and healthcare professionals marketing handouts, which claimed that the product could reduce all-cause mortality, late-onset sepsis, and reduces the risk of necrotizing enterocolitis (NEC); a potentially deadly gastrointestinal complication that can lead to severe injury, disability, and death for newborns.
"We advise you to comprehensively review your website, product labels, and other labeling and marketing materials to ensure that you are lawfully marketing your product in full compliance with the FD&C Act, the PHS Act, and their implementing regulations," the warning letter states. "Failure to adequately address this matter may result in enforcement action without further notice, including, without limitation, seizure and/or injunction."
Infant Formula Probiotic Concerns
Products containing live bacteria or yeast, also known as probiotics, are often used in hospital settings and given to preterm infants. Based on past research involving more than 26,000 infants, probiotics are often administered to help prevent infant death, improve feeding intolerance among preterm infants, and improve inflammation of the intestines that can lead to NEC, which is life-threatening.
The agency has not approved probiotic products for use as a drug or biological product for infants.
The warning letter comes about a month after the FDA issued a letter to healthcare providers, warning that at least one preterm infant has died after receiving probiotic formula and developing sepsis.
As a result of the risk that bacteria and fungi may be found in probiotics, the agency has determined that the products should not be given to preterm infants, since they may cause invasive and potentially fatal infections.
Similac Infant Formula Lawsuits
The FDA warning letter also comes amid continuing concerns about Abbott's marketing of cow's milk-based formula products for preterm infants, which has been linked to a risk of necrotizing enterocolitis (NEC), and resulted in a number of Similac lawsuits being filed by families of children who have developed this devastating condition.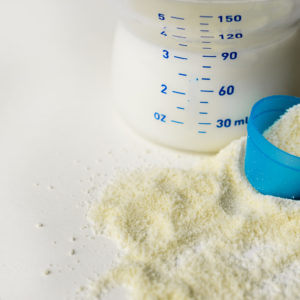 NEC is a devastating gastrointestinal disease, which primarily impacts premature babies, occurring when harmful bacteria breaches the walls of the intestines, causing portions of the tissue to become inflamed or die. The condition often results in the need for emergency surgery while the baby is still in the NICU, and many infants do not survive NEC.
In many cases, NEC is triggered the use of cow's milk infant formula products among premature babies, and the manufacturers of Similac and Enfamil now face a growing number of baby formula NEC lawsuits, alleging that they failed to adequately disclose the risk to parents and medical providers for decades.
Over the past few years, a number of prominent health organizations have raised concerns about the aggressive marketing of Similac, Enfamil and other formula products, which promote the cow's milk-based formula as an equally effective alternative to a mother's breast milk.
False and misleading statements have been blamed for driving many families away from breastfeeding, and suppressed demand for human donor milk, while also increasing the incidence of NEC from infant formula.
These allegations have been mirrored in a number of Similac lawsuits and Enfamil lawsuits filed in recent years.
Each of the NEC injury lawsuits raise similar allegations, indicating that manufacturers of cow's milk-based infant formula and human milk fortifier specifically marketing products for use by preterm newborns, without providing warnings to hospitals, doctors or families. However, as parents and hospitals now better understand the risk information that manufacturers have known for some time, there has been increasing adoption of human donor milk and increased efforts to encourage breast feeding.
"*" indicates required fields