FDA Commissioner Testifies to Congress on Shocking Conditions At Abbott Baby Formula Plant Linked to Similac Recall
May 27, 2022
By: Russell Maas
During a Congressional hearing earlier this week regarding the ongoing infant formula shortage, U.S. Food and Drug Administration (FDA) Commissioner Robert Califf detailed for lawmakers the egregious conditions that led to the shutdown of an Abbott Laboratories manufacturing facility in Michigan, which resulted in a massive Similac formula recalls and illnesses among infants nationwide.
Califf's testimony (PDF) came during a House Oversight and Investigations subcommittee hearing held on Wednesday, at which members of the U.S. House of Representatives questioned the causes and potential solutions for the formula shortage, as well as the health risks infant formula may represent. The subcommittee is part of the larger and politically powerful House Energy and Commerce Committee.
Concerns about widespread infant formula shortages began to emerge late last year, leaving many store shelves empty due to labor shortages, a lack of ingredients and COVID-19 outbreaks. However, problems were worsened and complicated when Abbott Laboratories had to remove all versions of Similac, Similac Alimentum and EleCare formula from the market only months later, after manufacturing problems caused the powdered formula to become contaminated with Cronobacter and Salmonella bacteria.
As of early May 2022, it was estimated that about 40% of formula products were out of stock nationwide. Some states have been hit worse than others, with more than 50% of infant formula products absent from shelves in Missouri, Texas and Tennessee.
Abbott's Sturgis, Michigan facility, which has been shut down since February 17, remains out of commission. However, the company and the U.S. Department of Justice recently reached a settlement agreement over a consent decree requiring Abbott to clean and sanitize the facility and all of its equipment, as well as the hiring of an independent third party to review the company's sanitizing and manufacturing processes. Once this is done, the facility will be allowed to reopen, which could occur in less than two weeks, experts said.
SIMILAC RECALL LAWSUITS
Was your child sickened after being fed recalled Similac, Alimentum or EleCare formula?
CONTACT A LAWYER
House Energy and Commerce Chairman Frank Pallone, Jr. gave his own opening statement (PDF) at the start of the hearing, noting the recently-discovered fragility of the infant formula food chain.
"The impact from just one infant formula plant closing in the United States shows the power one single manufacturer has to influence the nation's supply of formula when just three companies control roughly 95 percent of the market," Pallone noted. "We are too reliant on too few companies to do the right thing – and when just one of those companies cuts corners, we spiral into an emergency."
During the hearing, FDA Commissioner Califf told the House about multiple deficiencies found at Abbott Nutrition's plant, which included leaks in the roof that allowed water to enter and sit stagnant on the floor and on production equipment. This is suspected to have contributed to the outbreak of pathogens that caused infant illnesses and deaths after being fed Similac, Alimentum and EleCare formula products.
Califf further stated multiple quality control problems were identified, such as Abbott not following up on complaints of illnesses and other concerns, even knowing they proposed a potential health risk to infants.
"Insanitary conditions of this kind are unacceptable in all food manufacturing facilities, but especially in areas producing dry powdered formulas that serve as the sole source of nutrition for infants," Califf said in his testimony. "Finding pathogens in finished product during routine testing also generally indicates a potentially serious loss of sanitary process control during manufacturing. FDA would expect any manufacturer with a robust quality assurance program to identify and quickly take corrective action when such conditions are present."
Califf openly admitted at the hearing that the FDA did not act quickly enough in addressing problems at the plant, which they were aware of since September 2021.
Califf indicates the delays in forcing Abbott to sanitize and clean the facility were prolonged due to amount of time it took for officials to match the bacteria that sickened the first infant to bacteria later found throughout the plant. The testimony also revealed a whistleblower report of the deficiencies in the Abbott facility took several months to alert officials.
The committee indicated additional legislation will be necessary to empower the FDA with additional funding, staffing and resources to keep contaminated formula from ever reaching children, and to keep the nation's infant formula supply on store shelves.
Similac & Enfamil Baby Formula Health Risks
In addition to concerns about the shortages and recent problems with contamination, Abbott is also facing a growing number of Similac lawsuits that are now being pursued by families of premature babies who developed necrotizing enterocolitis (NEC) after being fed the cow's milk products while still in the NICU.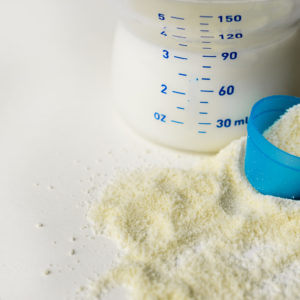 NEC is a serious health condition that primarily impacts preterm infants, causing intestinal tissues to become inflamed and die. If left untreated, it can cause dangerous perforations in the intestines, which allow bacteria to leak into the abdomen or infiltrate the bloodstream. This can lead to life-threatening infections, narrowing of the intestines, short bowel syndrome, developmental delays and a failure to thrive.
A number of studies published over the past three decades have highlighted the link between NEC and cow's milk formula like Similac and Enfamil, yet manufacturers have continued to market and promote versions of their products specifically for use by premature infants.
According to allegations raised in the baby formula NEC lawsuits, many of those infants may have avoided the condition if the manufacturers hadn't provided false and misleading information to parents and the medical community, which diminished the importance of breast feeding or using human donor milk.
"*" indicates required fields