Suicidal Teens May Use Tylenol For Fatal Liver Damage Risks: Report
August 21, 2013
By: Irvin Jackson
A recent investigative report suggests that teens who want to commit suicide may be increasingly turning to Tylenol, which can result in fatal liver damage when high doses of the over-the-counter painkiller are taken.  
Tylenol is easy to obtain and can be deadly in large doses, making it a go-to drug for many troubled teens, according to a report by the Times-Union, a newspaper serving New York's capital region of Albany, Schenectady and Troy.
Taken alone or in combination with alcohol, side effects Tylenol can cause fatal liver injury at high doses. Even if the victim survives and gets medical treatment, they often require a liver transplant due to the damage done by the drug.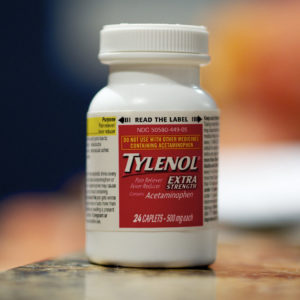 Federal health officials have previously recognized that acetaminophen overdose is the leading cause of liver injury in the United States, causing more than 50,000 emergency room visits each year, including 25,000 hospitalizations and 450 deaths.
In addition to intentional overdose, reports suggest that many cases of liver damage from Tylenol result from accidental overdose, as there has been a narrow margin between the recommended daily dose and liver toxicity. Many cases of liver failure have been linked to accidental Tylenol overdose or taking multiple medications containing acetaminophen.
In 2011, Johnson & Johnson lowered the maximum recommended dosage on Tylenol and other acetaminophen-based products from 4,000 mg per day to 3,000 mg per day, after the FDA announced new limits on acetaminophen levels in prescription painkillers like Vicodin and Percocet.
In recent years, increased efforts have been focused on raising awareness about the risk of overdosing on acetaminophen, in an attempt to reduce the number of liver failure cases nationwide.
Acetaminophen has been recognized as the most frequent drug used to commit suicide or attempt suicide in the U.S, with he U.S. Centers for Disease Control and Prevention (CDC) indicating that intentional acetaminophen overdoses happen twice as often as accidental overdose.
Tylenol Liver Failure Lawsuits
Tylenol is one of the most widely used pain medications in the country, and is generally assumed to be safe by consumers. However, Johnson & Johnson now faces an increasing number of liver failure lawsuits involving Tylenol, which allege that the drug maker has attempted to minimize the liver risks with Tylenol and failed to adequately warn consumers about the risk of overdose for decades.
Concerns about the risk of liver problems from Extra Strength Tylenol have focused on the narrow margin between the recommended daily dose and the risk of liver toxicity, since 500mg of acetaminophen are contained in each tablet. Some estimates have suggested that nearly a quarter of users may take more than the recommended dose, which could result in small, accidental Tylenol overdose, which may go untreated and increase the risk of liver failure or death.
Earlier this year, the U.S. Judicial Panel on Multidistrict Litigation established consolidated proceedings in the federal court system for all Tylenol lawsuits filed throughout the country. There are now more than 80 cases have been transferred to the U.S. District Court for the Eastern District of Pennsylvania. However, it is expected that the size of the Tylenol litigation will continue to grow over the coming months, and ultimately hundreds, if not thousands, of cases may be filed nationwide on behalf of individuals who suffered liver failure after using Tylenol.
"*" indicates required fields