Sunscreen Chemicals Enter Body At Levels That Require Further Research on Side Effects: Study
January 22, 2020
By: Martha Garcia
The human body absorbs several chemicals used in sunscreen products at levels that surpass the federally established safety limits, according to the findings of a new study, which indicates that further testing is required to evaluate the potential health side effects individuals may face.
In a study pubished in the Journal of the American Medical Association (JAMA) on January 21, FDA researchers indicate that the body absorbs sunscreen chemicals after only one application, and the levels continued to increase after multiple applications.
While researchers stress the findings do not suggest individuals should refrain from using sunscreen, the concentrations absorbed by the body surpass the threshold established by the FDA for waiving additional safety studies for sunscreen.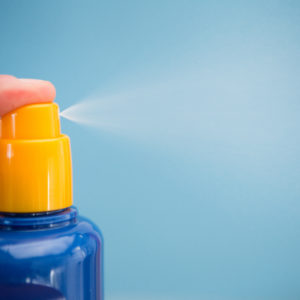 The research is a follow-up to a pilot study published last year, which focused on absorption of sunscreen chemicals by the body. This report outlined the findings of a randomized clinical trial that was conducted at a clinical pharmacology unit in West Bend, Wisconsin, in 2019.
Six sunscreen active ingredients were tested from four commercially available products, including avobenzone, oxybenzone, octocrylene, homosalate, octisalate, and octinooxate, which were formulated as lotion, aerosol, non aerosol, and pump.
Nearly 50 healthy participants were randomly assigned to use one of four sunscreen products, which was applied at 2 mg/cm2 to 75% of body surface area. This is the same level that would be used to cover the body in a swimsuit.
Participants applied sunscreen at the beginning of the study on day one, then four times at two-hour intervals on days two through day four. A total of 34 blood samples were collected over 21 days from each participant.
The data indicated the body absorbed the sunscreen chemicals at levels that exceeded the FDA's safety threshold of 0.5 ng/mL, which should trigger testing for possible health effects. Maximum blood concentrations for all six chemicals surpassed the FDA threshold on day one.
Since the sunscreens were applied several times a day on the following days, much like a typical application done when someone goes on vacation, the levels remained high even after application was stopped.
The data indicated levels of oxybenzone reached maximum concentrations of 258 ng/mL for lotion and 189 ng/mL for aerosol. As for avobenzone, levels reached 7.1 ng/mL for lotion.
Levels for octocrylene reached 7.8 ng/mL for lotion; for homosalate 23 ng/mL for aerosol and 17.9 ng/mL for non-aerosol; for octisalate 5.8 ng/mL for non-aerosol; and for octinoxate 7.9 ng/mL for non-aerosol. Maximum safe levels were surpassed for all sunscreen chemicals.
"*" indicates required fields