Talcum Powder Risks May Include Mesothelioma, In Addition To Ovarian Cancer
May 19, 2015
By: Irvin Jackson
Concerns over potential side effects of talcum powder when used as a feminine hygiene product continue to increase, with evidence suggesting that the popular product may increase the risk of ovarian cancer and potentially even cause mesothelioma, a rare and often deadly form of lung cancer.
A number of studies and lawsuits suggest that talcum powder carries cancer risks for women after years of using the products around their genital area. In addition to long-held concerns that this use can lead to ovarian cancer, now there is growing reason to believe that talcum powder may release inhalable asbestos and cause mesothelioma.
In October 2014, a study published in the International Journal of Occupational and Environmental Health identified a potential link between an unnamed, but popular, brand of talcum powder and asbestos exposure, suggesting that use of the product may have caused the death of at least one unidentified woman due to mesothelioma.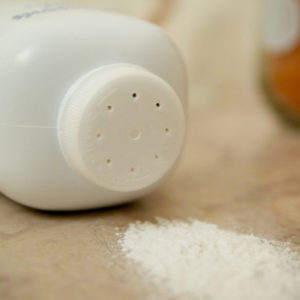 Mesothelioma is a rare form of cancer that is typically associated with exposure to asbestos. Given the long latency period between exposure to asbestos and diagnosis of mesothelioma, most individuals do not discover that they have the disease until decades after last exposure. In addition, the cancer is usually at a very advanced stage when a diagnosis is made, resulting in a very short life-expectancy with mesothelioma.
Concerns about the link between mesothelioma and talcum powder stretch back decades, with local health officials in Baltimore requesting that the FDA investigate asbestos in talc powder as far back as 1972.
Late last month, Colgate-Palmolive was ordered to pay $1.4 million to a woman diagnosed with mesothelioma after exposure to Cashmere Bouquet talc powder.
Talcum Powder Ovarian Cancer Concerns
While talcum powder, commonly used as baby powder or after-shower body powder, has been widely assumed to be safe for decades, in recent years concerns have emerged over the link between talcum powder and ovarian cancer.
Talc has been found to migrate through th vagina to the uterus, fallopian tubes and ovaries, with several studies finding evidence of talc within some ovarian tumors among long-time users of the products.
While the American Cancer Association (ACA) reports that the data on talcum powder overian cancer is inconclusive, and maintains that any potential risks are likely small, the International Agency for Research on Cancer (IARC) has ruled that the talcum powder cancer issue is complex, with some forms of the powder defined as carcinogens and others only as "possible carcinogens."
The ratings by the IARC, which is part of the World Health Organization (WHO), came after a review mainly of talc miners, but the organization has also examined the risks to women.
"A case-control study has suggested an approximate doubling in relative risk for ovarian cancer among women with perineal use of talc, but the possibility of recall bias cannot be ruled out," IARC concluded in a recent report.
In June 2013, a study published in the medical journal Cancer Prevention Research indicated that women who used genital powder containing talc may face a 20% to 30% higher risk of ovarian cancer than those who do not.
While the overall risk remains small, women have expressed concerns about why further research has not been done by the manufacturers and why warnings are still not provided by manufacturers about the possible health risks. The only warnings provided with popular talcum powder products like Johnson's Baby Powder indicate that users should avoid contact with the eyes and keep the powder away from the faces of children to avoid inhalation.
Dozens of Johnson's Baby Powder lawsuits and Shower-to-Shower Body Powder lawsuits are now being pursued against Johnson & Johnson, all involving similar allegations that women may have avoided an ovarian cancer diagnosis if the manufacturer had provided warnings for consumers and the medical community.
In October 2013, a South Dakota jury found that sufficient evidence was presented during trial to establish a link between Johnson Shower-to-Shower body powder and ovarian cancer developed by a 56 year old woman who had used the product for several decades. During the trial, Harvard University's Daniel Cramer testified that he has been looking into the links between talc and ovarian cancer for 30 years, and suggested that talcum powder may cause 10,000 cases of ovarian cancer every year.
"*" indicates required fields