Lawsuit Alleges Ovarian Cancer Caused by Baby Powder, Shower-to-Shower Exposure
March 29, 2017
By: Irvin Jackson
Prolonged exposure to talcum powder through the use of Johnson's Baby Powder and Shower-to-Shower for feminine hygiene purposes allegedly caused an Illinois woman to develop ovarian cancer, according to a lawsuit filed last week against Johnson & Johnson, Wallgreen and Imerys Talc America. 
The complaint (PDF) was filed by Kim Knight in the Circuit Court of Cook County, Illinois on March 22, alleging that the manufacturers withheld information from women about the risk that ovarian cancer may be caused by talcum powder use around the genitals.
Knight indicates that she used Johnson's Baby Powder and Shower-to-Shower for more than 30 years, pointing to marketing by the manufacturer that advertised the products to adult women for "use every day to help feel soft, fresh and comfortable." As a result of the practice, Knight indicates that she developed ovarian cancer, which was diagnosed in 2013.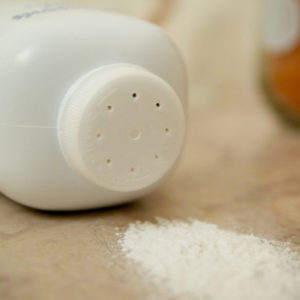 "Through their affirmative misrepresentations and omissions, Defendants actively concealed from Ms. Knight the true risks associated with the [talcum powder products] when used in a reasonable and foreseeable manner," according to the complaint. "Because of Defendants; actions, Plaintiff was unaware, and could not reasonably know or have learned through reasonable diligence, that she had been exposed to the risks alleged herein and that those risks were the direct and proximate result of Defendants' acts and omissions."
The case joins thousands of other Baby Powder lawsuits and Shower-to-Shower lawsuits filed in recent months by women battling ovarian cancer, and the family of women who have died, alleging that talc contained in the products can migrate through the vagina and cause the development of ovarian cancer following prolonged exposure.
Knight's lawsuit also indicates that Walgreens, where the products were purchased, bears some responsibility for selling and promoting talcum powder.
"At all relevant times, Walgreen was marketing, promoting, and selling the products in the regular course of business," the lawsuit states. "As a manufacturer of its own products containing talc, Walgreen had actual knowledge that the use of the products in the perineal area could cause ovarian cancer."
Last year, at least three talcum powder cases went to trial in Missouri state court, each resulting in multi-million dollar damage awards against Johnson & Johnson for failing to provide ovarian cancer warnings for women using talcum powder. A fourth case decided earlier this month resulted in the first defense verdict in favor of the manufacturer.
While there are at least 2,000 state court cases pending in Missouri and other state courts, a growing number of complaints are also being filed throughout the federal court system, where coordinated pretrial proceedings were established in October 2016, centralizing the talcum powder litigation before U.S. District Judge Freda Wolfson in the District of New Jersey.
Following additional bellwether trials, if Johnson & Johnson and other defendants fail to reach talcum powder settlements for women diagnosed with ovarian cancer, or otherwise resolve the litigation, hundreds of individual trials may be set for trial in separate courts nationwide in the coming years.
Ava

April 8, 2017 at 2:01 am

I want to know how the powder got into the ovaries to cause the cancer?
"*" indicates required fields